Copper - a beautifully imperfect look
Warmer, richer tones have been creeping into interior colour schemes lately. While the perennial greys are still in vogue, it seems that metallics of all shades are on the ascent, especially copper.
Copper is increasingly being used as a highlight – burnished taps here, copper-coloured cushions there. Once only seen in glossy magazines, it has now moved into mainstream design stores as well as bathroom and kitchen manufacturers.
Creative consultant and trend forecaster, Bree Leech, says that copper's appeal comes down to its warmth and ability to transform an otherwise neutral theme into something quite special.
And, she adds, copper is so incredibly versatile, ranging from "perfectly shiny metallics" to "a beautifully imperfect aged look", which explains its popularity and ability to fit in with many different decorating styles.
"The copper trend has evolved and expanded from homewares to building materials with homeowners incorporating copper details in cabinetry and even exterior features," says Leech. "As trends move toward natural materials and materials that age beautifully, copper continues 
to be a popular choice."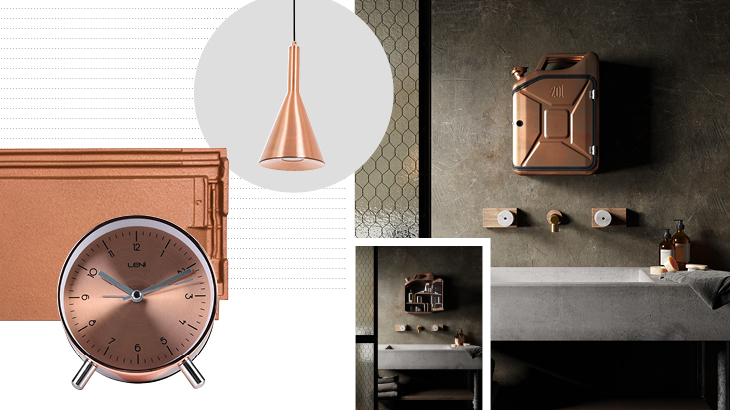 Copper Metallics hit the Roof
And with these rich metallics moving into exteriors, Monier's latest release captures the new colour trend. The company recently introduced a second metallic shade in its terracotta range of roof tiles – the copper-coloured "Mars".
Available in all three terracotta profiles, Mars adds a soft and reflective metallic that will create a warm and sophisticated glow to any home. 
And it can work well with existing colour schemes, says Leech. 
"The beauty of copper is that you can integrate it into current neutral and grey schemes; it adds warmth to an otherwise cool palette and creates a wow factor where there was none," she says. 
And yes, Leech agrees that there is a trend away from the greys to a richer colour palette for both interiors and exteriors.
"We are definitely seeing a move towards warmer palettes in neutrals and accent colours. Copper works with these schemes just as well as it does the cooler palettes," she says.
And, of course, when it comes to performance and colour, nothing is longer lasting than terracotta. Monier terracotta tiles are made from natural Australian clay and fired at a temperature of over 1000°C, baking the colour right in, enabling it to withstand Australia's harshest weather elements. 
So now, with Mars, you can have the longest lasting colour in the latest shade.