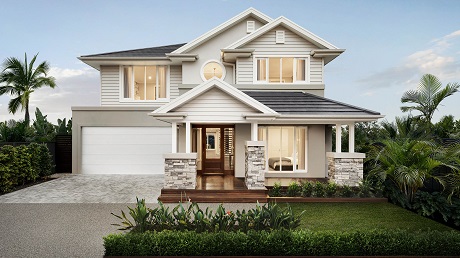 Open Homes Australia featuring Metricon Homes &amp...
Open Homes Australia featuring Metricon Homes &amp...
Signature by Metricon Bayville residence on display in Dee Why - now featured on Open Homes...
If you take a look at any modern display village, you could be mistaken in believing that you have arrived in Southhampton or Bridgehampton instead of Kellyville or Thornton, such is the newfound passion for the Hamptons look.
Porthole windows, slate-style roofs and elaborate porticos are all the order of the day as more Australians embrace this classically elegant style in new homes.
One of the building companies that has really showcased the Hamptons look is
Metricon
, which has been adding an option of Hamptons-style façades on some of their designs, as well as launching
Bayville
, a classic American-style home with many of the features found on Long Island's holiday playground.
Bayville is all about classic proportions and detailing with the effortless comfort and ease of an airy, open beach house. Featuring a gabled roof and authentic design features plus free-flowing interiors and large well-positioned windows, Bayville breathes new life into a much-loved style of residence.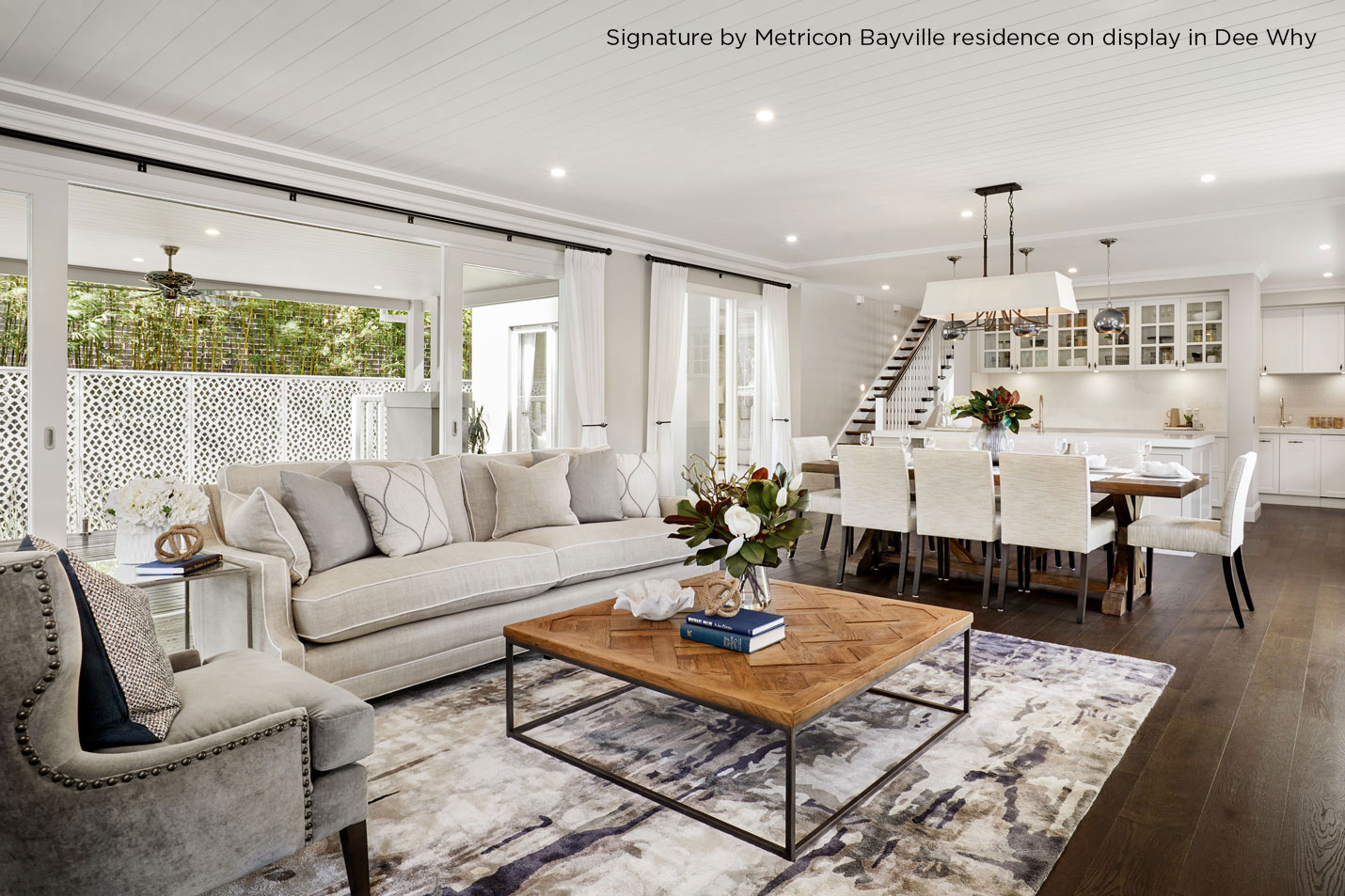 Metricon's senior interior designer for Queensland and NSW, Melissa Colley, says that Australia has embraced the Hamptons look championed by the Bayville because it suits our coastal lifestyle so well.

"What I find really interesting about Hamptons, is that because Australia has such a massive coastline, that it's one of those rare themes that goes around the whole country," she explains. "So it doesn't matter if you're in WA, Queensland or Victoria, there's coastlines everywhere, and it's just one of those really universal themes that is really popular."
Melissa says she thinks that the light and airy feel of the Hamptons style is part of its popularity with home builders. "The light and airiness of these homes from the oversized windows and doors, paired with a crisp, clean palette is very appealing. The colour palette keeps it simple with shades of warm grey applied to walls, allowing the crisp whites to highlight embellishments."

Tiled roofs are an important part of the exterior Hamptons aesthetic, adds Melissa.

"I think tiles have made a massive comeback," she says. "Metal roofs were popular for a long time, but I think that has really shifted and people are coming back to tiles now."
Metricon customers are usually opting for the flat profile roof tiles, says Melissa, such as Terracotta
Nullarbor
, Concrete
Horizon
or the slate-look
Cambridge
, which all fit well with the classic American style of home.
Bayville is now on display in Dee Why on Sydney's northern beaches, and includes a dark shade of flat-profile roof – the Horizon in Barramundi – and is proving to be a big hit with homebuyers, who like the look when combined with the brick and tile solidness that Metricon is known for, along with a touch of elegance – and the odd Hamptons touch, inside and outside.

"Connecting the internal and external elements is high priority for us," says Melissa. "And that even goes through the landscaping. It's having that overall feel where it just flows as soon as you walk through the gate. Basically, you are experiencing the whole theme from start to finish."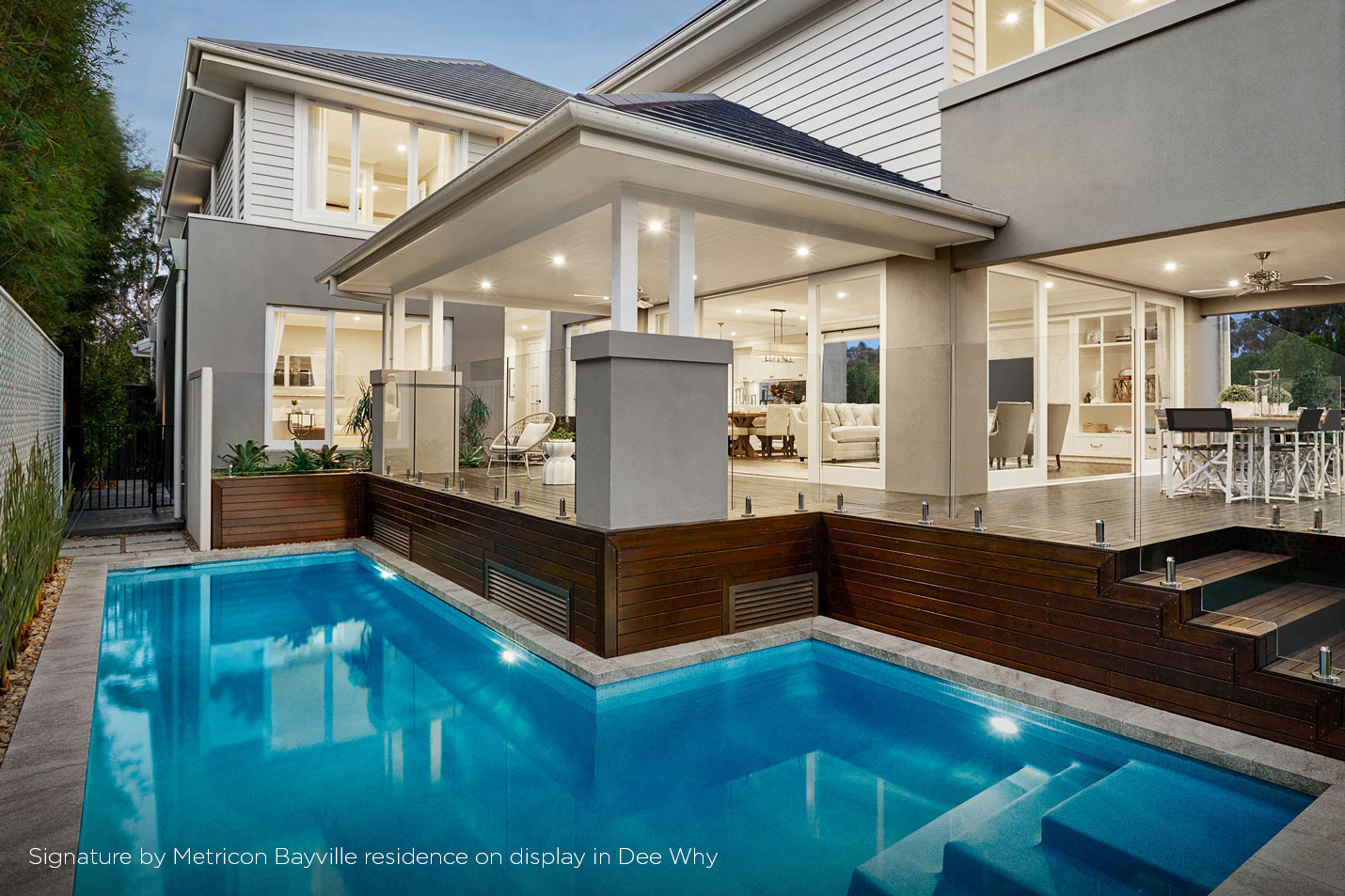 KEY FEATURES OF THE BAYVILLE
1.

Classical design features on the exterior
A key feature of the Hamptons look is the timber detailing, including timber windows and a porthole window for added interest and character.
2.

Two storeys
A spacious floorplan (and there are five to choose from) includes a parents' retreat (with ensuite and walk-in robe) and kids living space upstairs.
3.

Spacious kitchen
Hamptons-style homes live up to the adage of making the kitchen the heart of the home with a large island bench and butler's pantry.
4.

Flat profile tiles
Slate-look tiles are popular with this aesthetic, but concrete tiles such as Horizon provide a more cost-effective alternative than real slate. Plus, with Monier's C-LOC™ Technology, Horizon has an 8x better gloss retention than metal roofs.
5.

Cultured stone as a feature element
Increasingly, cultured stone such as PGH Brick's Country Ledgestone is chosen as a feature on Hamptons-style porticos and entranceway to add depth of character.