Fadi Fadhil - Architect - Designs a Master Piece
It's always the big question – what sort of houses do architects themselves live in? Do they practice what they preach, or are they just as happy living in suburbia like the rest of us?

The answer, says architect Fadi Fadhil, is that it's a little bit of both. He's all about the ease of living, but with a design edge.
Fadhil transformed his own small and pokey suburban semi into a large family home in a comprehensive and recently finished renovation project – complete with pool for the kids.
The family (Fadhil, his wife and two sons) moved back in at the end of 2016 after a 15-month renovation.

The new, ultra-modern semi located in Sydney's Chatswood has been totally reworked to provide a huge expansion of space with an extraordinary angled roofline. An extra two metres were added to the side of the house and six metres were added on the rear of the original house, both over two levels.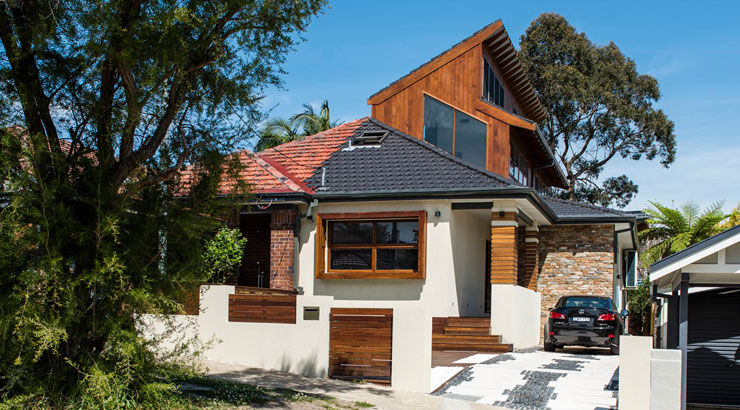 See how Fadi Fadhil, architect and home builder transformed his home using Monier's Terracotta Marseille roof tiles.
As a feature on Open Homes Australia, ex-Block contestants Michael & Carlene Duffy step inside Fadi's contemporary masterpiece. Discover why Fadi chose Monier's very own Terracotta roof tiles for his home in the video below.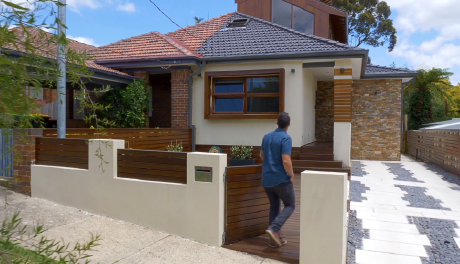 Monier & Open Homes Australia
Monier & Open Homes Australia
Let there be Light! The Roof Created More Space for Natural Light.
The contemporary angled roof uses high windows to bring in an abundance of natural light to what was previously a dark building. 

Essentially, the family ended up with a home of four bedrooms, two bathrooms, with a new deck and swimming pool at the back of the ground floor, plus an open-plan kitchen, family room, dining room and lounge area. 

"We used to have a fairly small kitchen and then lots of partitions in the ground floor," says Fadhil. "Not family-friendly at all." 

With such a huge building project, Fadhil says that the choice of Monier tiles was essential to the success of the alteration.

"I always prefer tiles to Colorbond because of their performance, longevity and the noise issues," he says. "If it's raining, it's better to be coming off a tiled roof just to prevent any transference of the noise from the rain coming through the internal of the house. If you ask me, between roof tiles and metal - if I have the right slope, which is 18 degrees, I always go for roof tiles."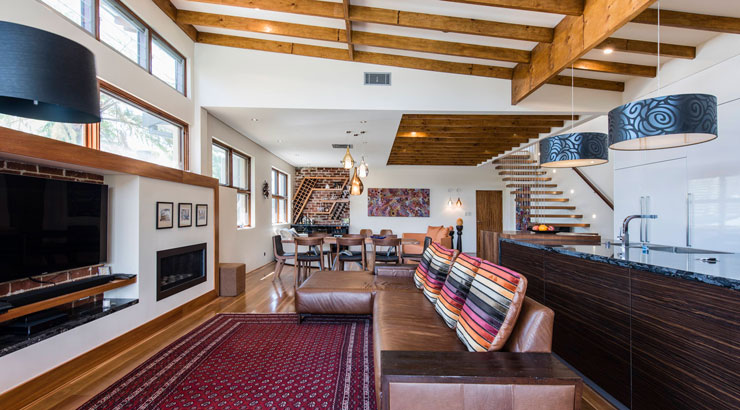 Slimline, Dark & Modern.
Fadhil says he chooses Monier tiles on the roof, whenever possible and particularly likes the smoother profile tiles, such as the Terracotta Marseilles product, which he used in his own house and often is his first choice for residential projects.

"I like this profile," he says simply. "I like this colour [Titan Gloss] in particular. It's quite contemporary looking. For our home, it works well with the light beige render and the timber colour on the windows and doors."

So was it easy being his own client? Fadhil says he loved the chance to explore his creativity without being restrained by clients' tastes and budget.

"I tried to put everything that I tried to convince our clients to try," he says. "Things they reject because it's expensive. I put everything I want for my clients in my own house."

However, Fadhil says that this time he had to contend with his own wife, who had an almost overwhelming faith in his ability to produce anything – despite the laws of physics.

"With my clients, sometimes it's easier because when I tell them what is not possible they agree straight away," he adds. "With my wife it just took me a while to convince her about that. Because she thought I could do anything!"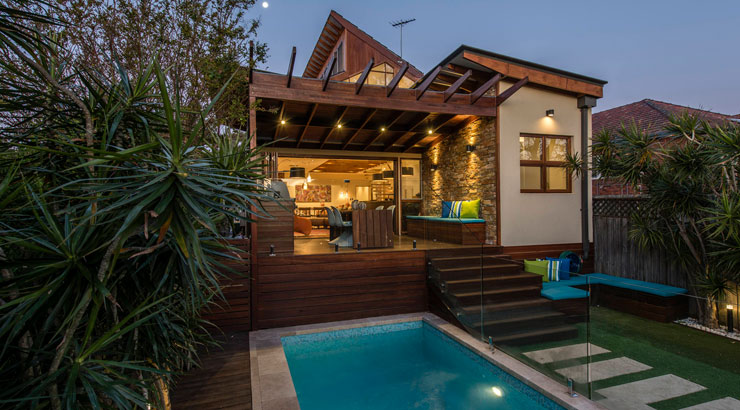 Home is where you hang your hat.
"With my clients, sometimes it's easier because when I tell them what is not possible they agree straight away," he adds. "With my wife it just took me a while to convince her about that. Because she thought I could do anything!" 
The biggest conflict between Fadhil and his wife however, ended up pushing him to finding an innovative solution. His wife wanted to eliminate the need for steel supports in the new open-plan kitchen in order to maximise the available space. 
It was a challenge, says Fadhil, who had to work with a structural engineer before the result could be achieved. 
"It took me four or five steel fabricators to agree to take this job because it was so complicated for them," he says. "It is a massive portal frame – two portal frames on the structure without any supports, without any columns in the middle." 
Now the Fadhil family is just happy to be home. And yes, even architect's building jobs don't always go totally smoothly. "They are always longer than you think and always more expensive than what you have already budgeted for. Even for me," he says. 
"Although I have done the building myself, done the project management myself, and all of that, but still some things went over budget, like the steel fabrication. I allowed for some lump sum for it, but it took about one and a half times more because it was so complicated." 
"But we are happy with the outcome."