For anyone in the building game, Anthony Campanale might have the dream job. As the head designer of Masterton Homes, he spends his days talking to clients about customising Masterton's standard homes, creating bespoke designs, and being at the cutting edge of international home trends.
And when he came home, it seems only fitting that he created his own slice of the Hamptons for his own family in one of Sydney's new housing estates. While Campanale had renovated previous homes, this was the first home for his family – wife Stephanie and seven-year-old son Christopher – that he designed and built from scratch.
And this time he had his toughest client to date – Stephanie, who was nervous about entrusting her husband to capture exactly what she wanted in their new home.
"I think she was fussy," says Campanale. "She was always nervous, but I knew what I wanted. I showed her some plans and ideas, but I don't think she grasped all of it. However, in the back of my mind, I knew it would be great. I knew it would end up as she would like."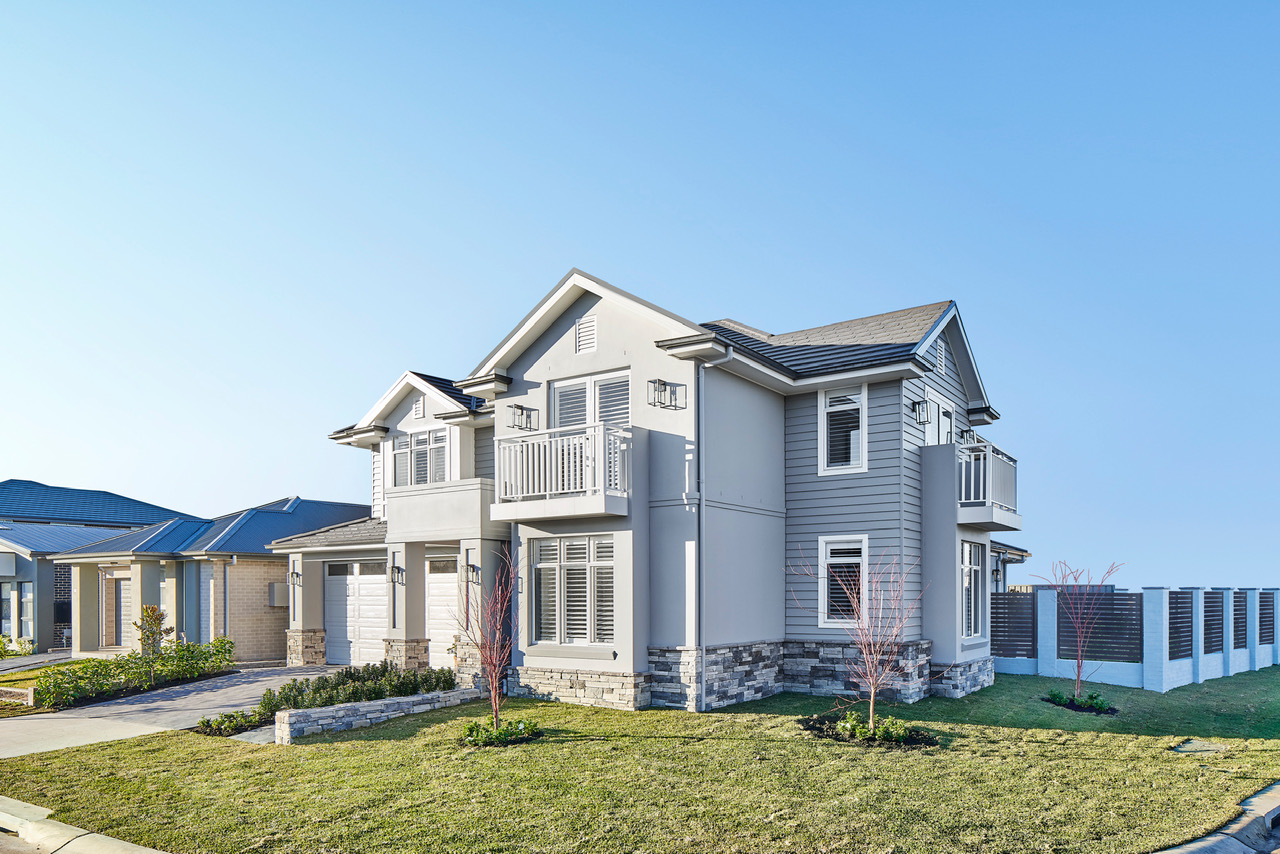 While the house might seem to be built on a grand scale for just three people, Campanale says Philadelphia-born Stephanie wanted plenty of space for the family.
"It's the American in her; she wants everything bigger and better," he says with a laugh.
Indeed, Stephanie's background was part of the reasoning behind choosing a classic American design for the house.
"I've been to the US a few times and looked at a lot of display homes over there, and I wanted to capture that look," says Campanale. "It's got a timeless feel, internally and externally – it'll look good now, it looked good probably 30 years ago, it'll look good in 30 years' time. A lot of contemporary homes may look good now, but in 20 years' time…"
Campanale spent some time sourcing exactly the right block of land for the house, choosing a corner block so he could have two facades and with some height to the land.
"I've always liked a corner block," he says. "Especially in a lot of the new estates, because the blocks aren't that large, so to get a corner block, you feel a bit more open, as opposed to being closed in by large homes on either side."
"I kept the home up high at the front, because I wanted our house to have a nice street appeal," he adds.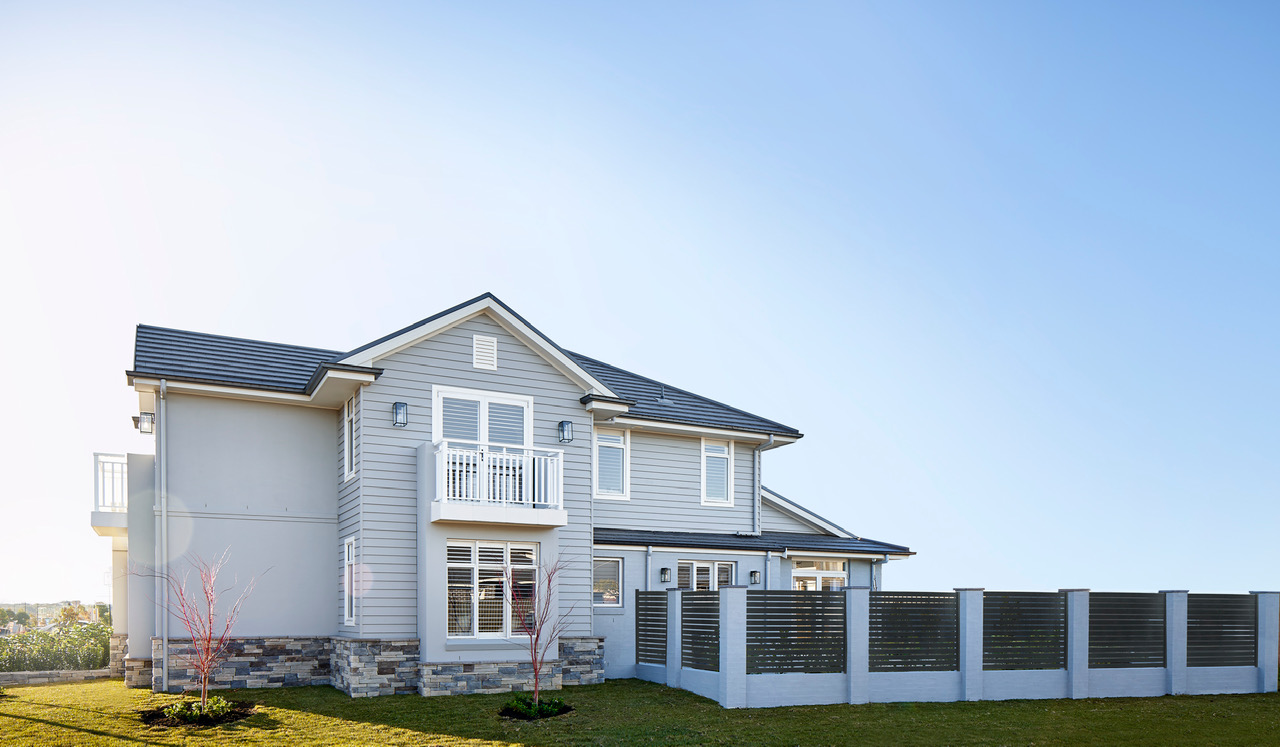 He spends a lot of time at Masterton looking at Monier's range of roof tiling products as part of his job, so he said he knew exactly what tile to choose for his own home – the clean and classic Horizon Concrete tile in Barrumundi, a dark grey, which suits the Hamptons look.
"It's a flat profile," Campanale says. "It's got that that slate sort of look of American roofs." He also chose to use A-line ridging, which adds to the streamlined slate-like effect.
The Horizon tile and A-line ridging is standard with most Masterton Homes, and Campanale says the combination is always popular with their customers because of its clean lines.
The house includes a feature facade of PGH Bricks' Cultured Stone, which Campanale believes reflects the classic American style he was trying to achieve.
"I think there's 22 square metres of cultured stone on the house, and it brings you around to the front, that porch area," he says. "It adds a lot of character."
The rich colour on the front door is also a legacy of Stephanie's American heritage.
"The wife wanted the red door on there, which is an American tradition," Campanale adds. "I think it's an old 'Welcome' sign during the war. In America, in the early days, red would be welcoming. If you had a red door, people could always come in."
For Campanale, his Italian heritage meant that the kitchen was important, creating a generously sized space that is able to host large family gatherings.
"We love entertaining and we really wanted one big open living-dining-kitchen area where you just have a big open bench where you can put all your food on there. Funnily enough, we had a party yesterday, and that whole bench gets full of food, and we got it all in that one room."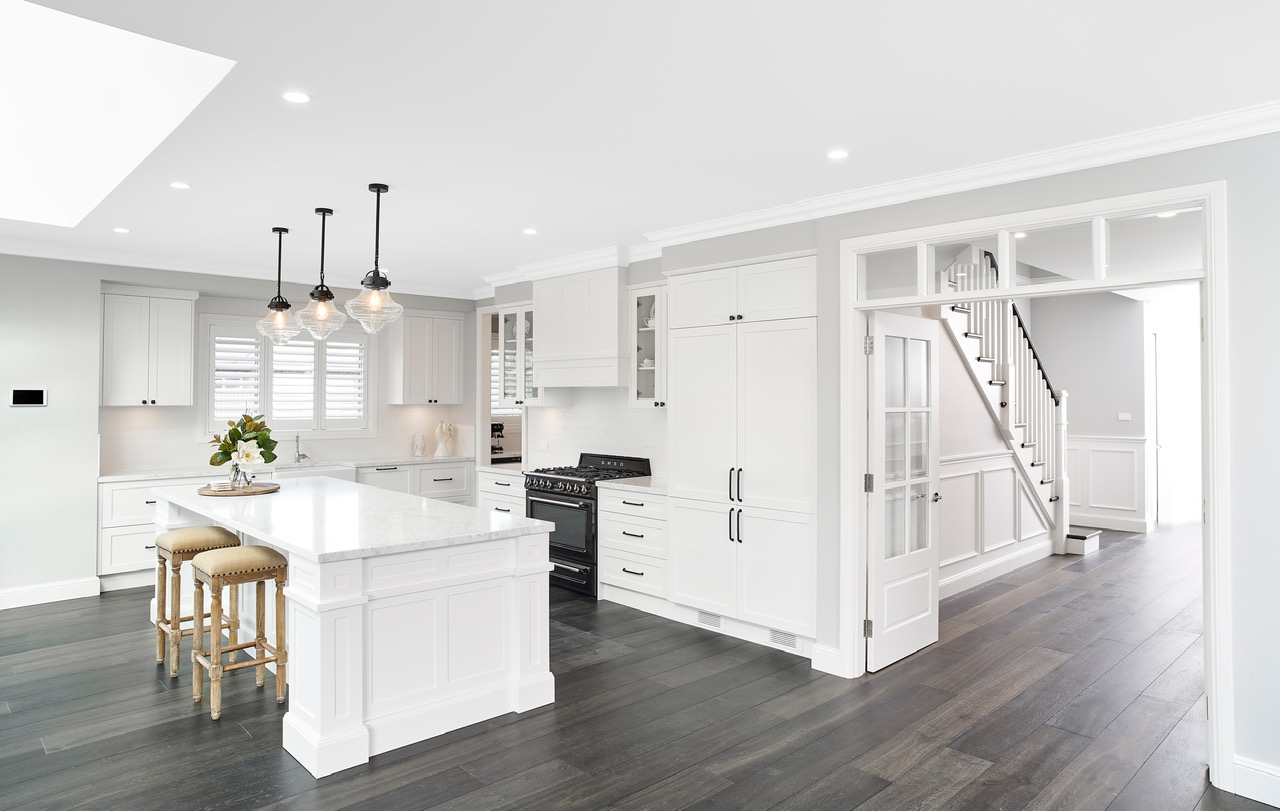 However, he continues to be inspired by the homes on his frequent US trips.
"Every time I go to America, I try to go look at display villages, and they do it very well over there," he says. "They really detail their homes beautifully, internally and externally. Even colours and furnishings; it's a nice feel. Sometimes they go overboard where it's just too many colours, too many patterns, too many materials. That's why in Australia you pare it back a little bit – you still have the detail without really cluttering it too much. But I try to get around, especially when I'm in the States. I'm actually up there next year to look at a kitchen show, just to get ideas."
"I like to try to be in front of the opposition."