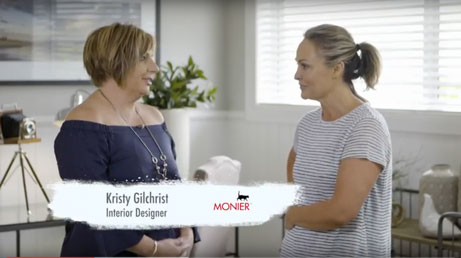 Achieving the Hamptons Look with Monier
Achieving the Hamptons Look with Monier
The Home Team and Monier have teamed up to educate you on how to achieve the ever-popular Hamptons...
The Hamptons Look Hits Australia
Located on Long Island New York, Bridgehampton and South Hampton in particular are known as being the 'It' holiday destination of the rich and famous – the places where wealthy Manhattan likes to play. The classic styling of the beachside homes on the island includes large, elegant timber cottages, modern streamlined roofs in darker shades, along with luxurious open verandahs and breezeways.
Indeed, it's not hard to see the attraction of the Hamptons style. The gracious architecture of the homes translates very well to the Australian climate and the pastel colour palette, slimline profile roofs and timber fretwork used are now very much in demand in everything from kitchens to cushions.
There's a certain coastal feeling about The Hamptons, which is, after all, a beachside holiday destination. Distressed white trims, understated grey tiles and sun-bleached colours form the cornerstone of the style – it's cool and airy and postcard-pretty.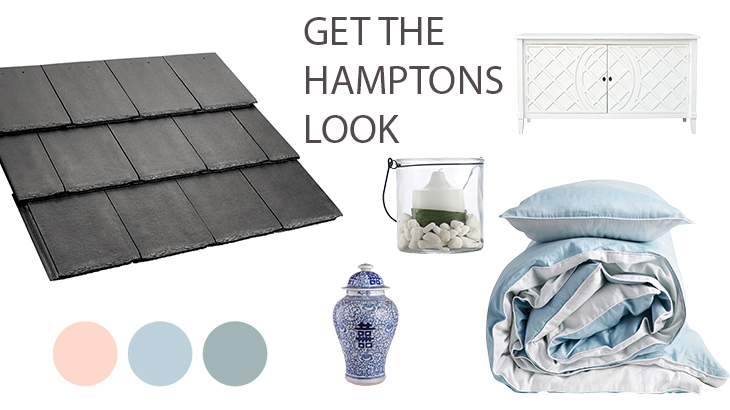 THE HAMPTONS SUCCESS STORY
Queensland designer Jared Poole has become known for designing Hamptons style homes throughout the Gold Coast and admits that the Hamptons style has become the "flavour of the month".
"We've been doing them over the last three or four years," he says, "but it's really catching on now. In the last year and half it has been gaining momentum. You can tell it's getting big when the real estate agents are using it in their marketing."
Senior designer at Carlisle Homes, Shane Rogers feels the move to the Hamptons look is about a return to a more traditional façade for homes. Carlisle recently released a Hamptons style home – the Montpellier Newport, which includes timber cladding and detailing – and it's been a big success.
"We sold some before it was even released," says Rogers with a laugh. Rogers says he believes that the move to minimalism in new homes was more developer-driven than customer-driven – and that their customers have been looking for a move back to including more traditional elements.
Rogers adds that the Carlisle buyers aren't interested in timber homes per se, preferring brick veneer with touches of timber as a way of softening up the façade.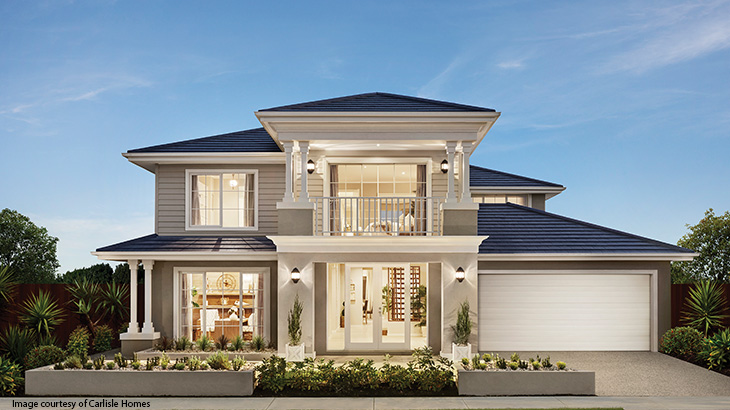 THE HAMPTONS LOOK IS HERE TO STAY
Senior interior designer at Metricon Homes Qld, Melissa Colley, is in agreement with Rogers, adding that the style "is such a perfect fit for our Australian lifestyle".
"We have beachside suburbs all around our country so this is one theme that is universally popular to Australians regardless of which state they reside," she says.
"It's the overall feel of a Hamptons home that makes it so appealing, being a combination of both casual/relaxed and classic/sophisticated," adds Colley. "It allows the end user the diversity to dress the style up and down depending on their individual taste. It's a rare theme where you can add a crystal chandelier or a recycled timber chest and both elements work harmoniously in a space."
Colley stresses that the style is often about the external finishes. "A tiled roof is a must, preferably a flat roof tile like Monier's Horizon or Atura ranges. Mid toned grey walls with white windows and white architectural features are also popular additions."
So is the Hamptons look a fleeting trend? Jared Poole doesn't think so. "When you look at those big homes in America, when you do them properly they stay good for years," he says.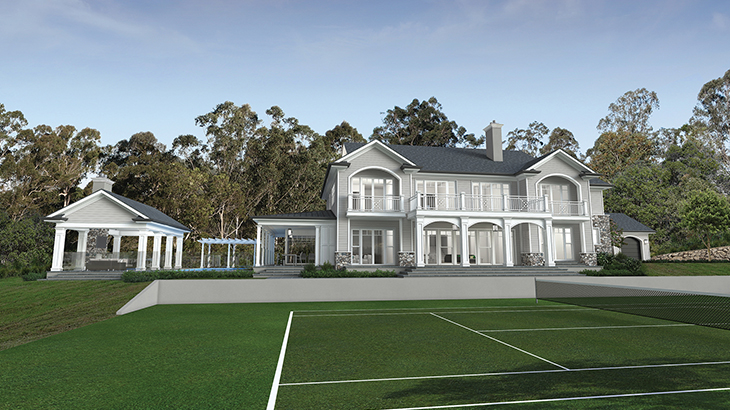 GET THE LOOK
However, not every home owner wants to go the full Hamptons, but many people are choosing elements of the look – often a pastel exterior colour palette and grey slate-look tiles – and adapting it to their own style.
Poole admits that there is a similarity between the Hamptons homes and a classic Queenslander, which might explain their popularity in our northern states – both styles are set high on their land to allow breezes to waft through, have timber detailing and white trims.
"To me Hamptons is a fairly broad style. There are so many interpretations of it, but I think materials certainly come into play," says Poole. "It's about the timber cladding and pastel colours."
Many homeowners are also opting for a Hamptons-style kitchen, which usually includes white timber panelled doors, wrought iron lighting and elements of soft shades of blue or green in the details.
"Again, there are obviously levels of detail and interpretation of it," adds Poole. "We are doing some kitchens at the moment that are very detailed and others that are pared right back and more of a contemporary interpretation of the Hamptons."
Like all decorating and architectural styles, home owners can be passionate about capturing the full look, or simply choosing a few elements to add a modern and fashionable touch to their home.