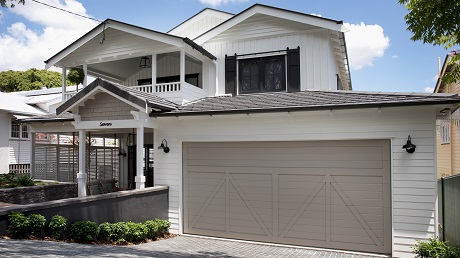 Open Homes Australia featuring Concrete Cambridge
Open Homes Australia featuring Concrete Cambridge
When Front Porch Properties and Monier's Concrete Cambridge tiles unite, this is the amazing...
When it comes to building homes – classic style and charm will always last the distance. This has certainly been the experience of builder Rachael Turner, of
Front Porch Properties
.
Rachael has created a highly successful building business in the Brisbane area buying, renovating and selling her own developments, along with building new homes for families looking to construct their forever home.
Her latest project – just sold for a tidy profit – turned what she terms a "daggy Queenslander" into a modern farmhouse-style family home.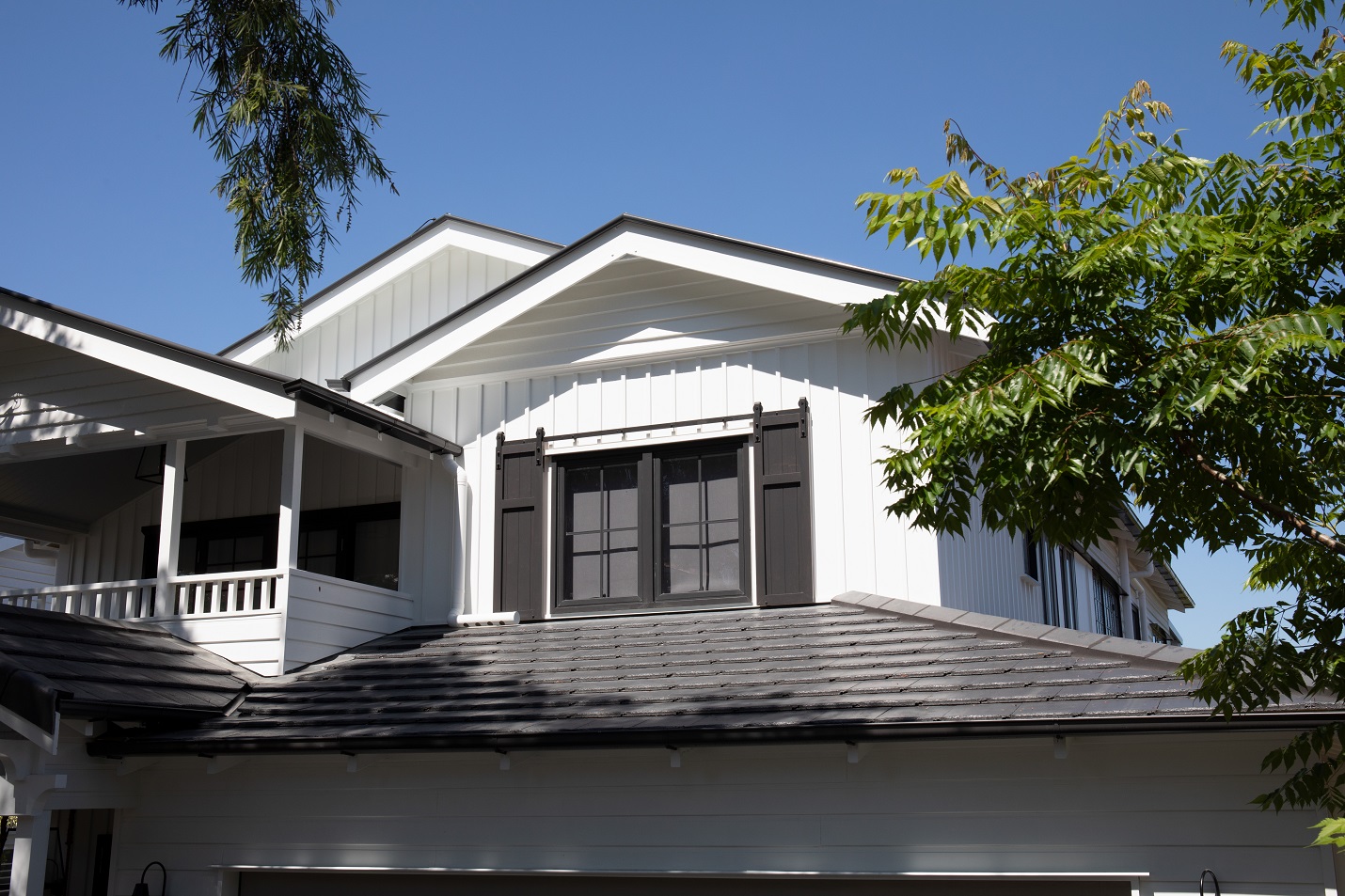 "It was an original Queenslander and we had to keep the building because it was pre-war," explains Rachael. "We raised it two metres. The whole downstairs area is new and then we did a dramatic renovation on the existing structure and added a new roof. It's basically a brand new house."

"We've kept all the original ornate ceilings and the original cornices. Other than that, it's all new."

Now a gracious homestead, the Coorparoo house boasts five bedrooms, three bathrooms, two living areas and a pool. "It's basically got everything for a really comfortable, easy, and relaxed lifestyle," says Rachael.
The new roof features Monier Roofing's Concrete Cambridge tiles in Soho Night colour, which Rachael chose because they resemble the American style of classic design she loves. The shingle look works well with the monochromatic colour palette and generous verandahs.
The new open plan design has also made the most of the Queensland sunshine, creating a stronger relationship between outdoors and indoor with French doors that lead straight to the back deck. In fact, there are four different decks around the house, capitalising on the city views and new raised height of the building.

The house was a private development project for Front Porch Properties, with Rachael selling it in mid November. Her signature designs and style are fast gaining a following with Brisbane homeowners, and she has more than 20,000 Instagram followers and a growing waiting list for her building services.

"We specialise in classic style and American-inspired homes and renovations so all of the homes we build have that classic, timeless charm to them," she explains.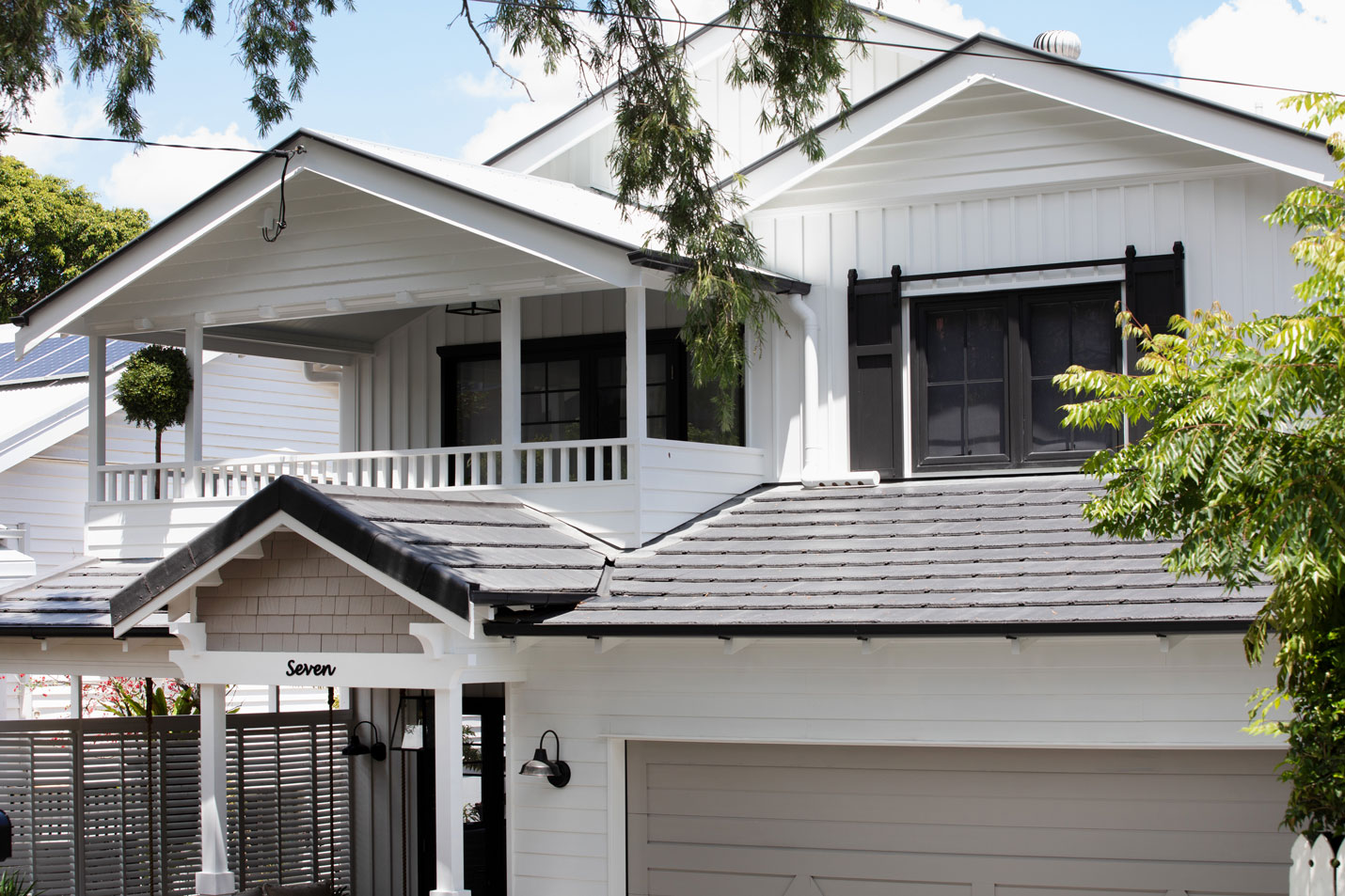 But she's clear that her style can't be pigeonholed into the current Hamptons trend.

"I don't like to use the word Hamptons because so many people use it," she says. "We say we do modern finishes with storybook charm."

Front Porch Properties is booming and Rachael says that at any one time she's usually working on one large project and one or two small projects.

"I love being a builder," she adds. "Definitely very different to my previous career. I used to be a pianist.

"Five years ago I had a career change because I have this love for construction. I worked really hard to get my builder's licence and it's what I do full time. I find that it floats my boat and it's very rewarding to be building these beautiful homes in Brisbane.

"I love working with my team of carpenters. I have a very special team," she explains. "I love that every day is different and being able to improve the Brisbane streetscape. It's really nice to take an ugly duckling and make it beautiful."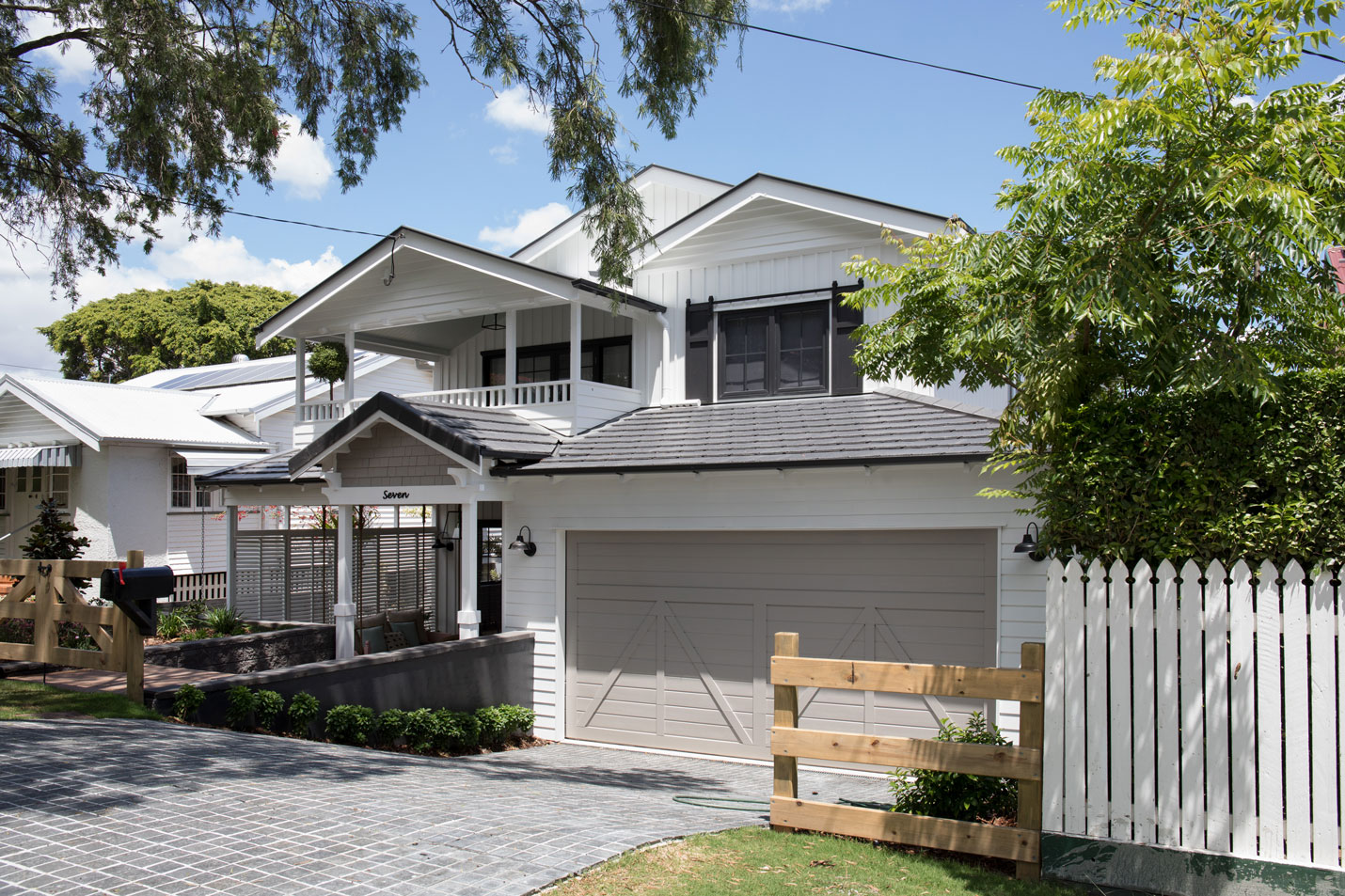 5 ways to create classic, timeless charm
1. Stick to a monochromatic palette
Rachael chose Resene's Half Merino for the exterior paint, bringing a softer white shade that still works under the bright Queensland sun. Dark trims in Charcoal by Resene provided a counter balance and framed the trims and exterior features.

2. Shutters can add personality
Adding shutters to either side of the exterior windows adds that classic American feel that Rachael strives to emulate. She built the shutters herself, painting them in Resene's Charcoal to match the rest of the trims.

3. Choose a shingle-look roof tile.
Rachael chose Monier's Concrete Cambridge tile because it had the look she wanted. "Because we specialise in American style homes, I was trying to find a product that would most closely mimic the American slate shingle roof that you see on those beautiful American coastal homes," she explains. "The Concrete Cambridge tile was the closest in recreating that look and it's perfect for a home like this."

4. Add a touch of whimsy
The classic letterbox profile provides a sense of personality and fun, greeting visitors as they enter the property. Rachael's husband Simon carried the letterbox home in his luggage after a trip to the US. "He was questioned by customs and received some odd looks when he pulled out a full-sized mailbox," says Rachael.

5. Keep exterior lighting consistent
Exterior lighting is so important, especially with a house of this size. Rachael chose simple glass and metal lights from Barn Light Australia all with the same aesthetic, to ensure a sense of harmony with the front aspects of the house.