There comes a time in most growing family's lives when they have to make the big decision – should we expand or should we move? There's even a TV show about it now!
However, for the Sebastian family, moving was never an option. They loved the location of their small brick bungalow – backing on to a nature reserve in leafy Lane Cove, Sydney and close to good schools – but it was just too tiny for three growing boys. After 13 years of living there, it was time to expand.
Enter building company
Cape Cod
, who helped the family build their forever home – using the existing house as the base. A second storey with four bedrooms was added, along with a new roof and carport. Downstairs was reworked to include a playroom for the kids and complement an earlier renovation that opened up the kitchen/living space.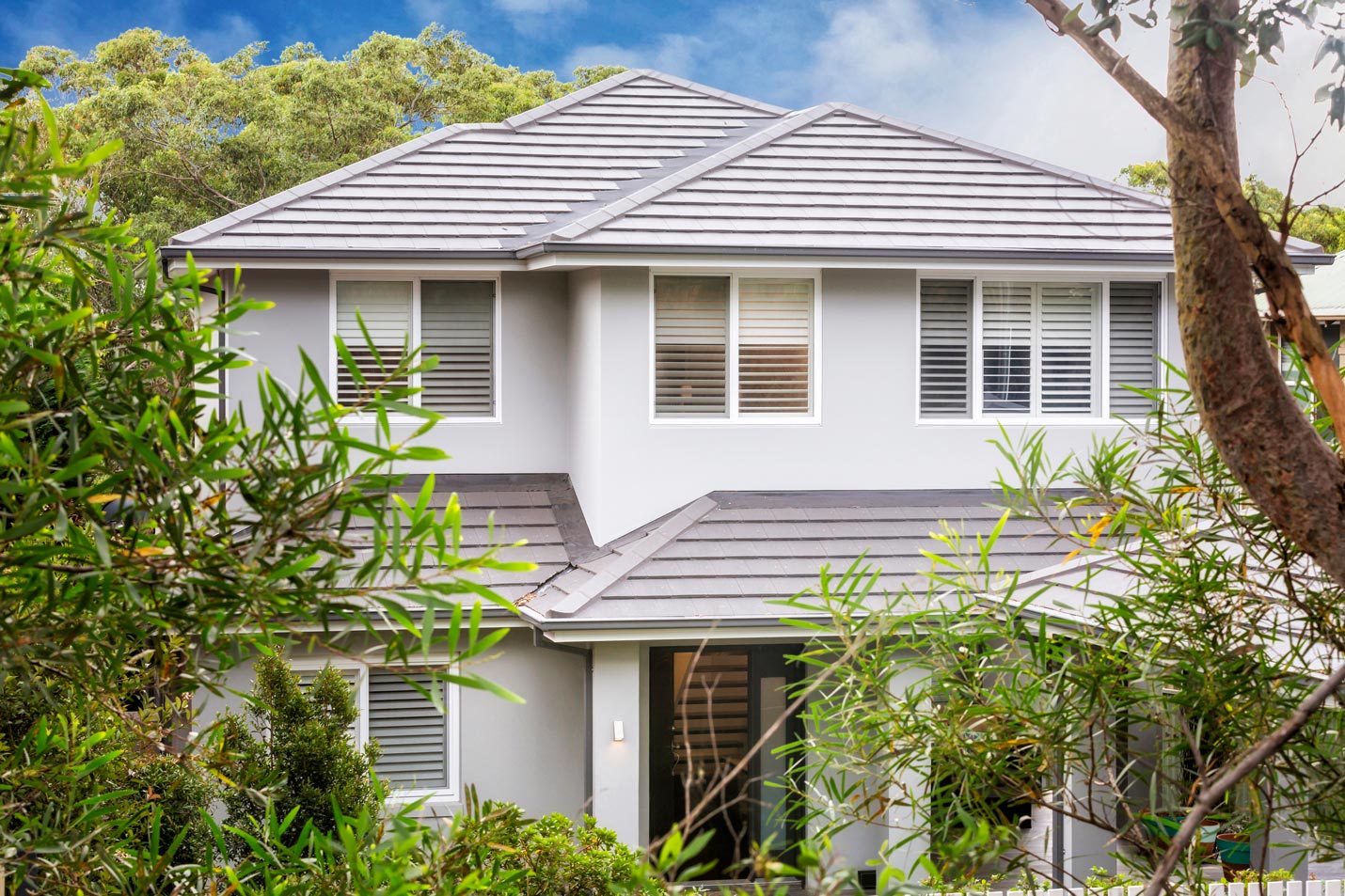 The process took about nine months, with the Sebastians living onsite the whole time, allowing the family to continue their normal lives, as much as possible. Kids still went to school and local activities went on as usual.

"We actually chose Cape Cod because they specialise in you being able to stay in the house," explains Rebecca Sebastian. "So, we had our three boys in this one tiny room for about eight or nine months."

Like everything with the build, Rebecca and her husband Ray did their research when it came to choosing a roof tile. On the advice of Cape Cod they did some driving around looking at roofs to make sure they had the right product.

"We wanted to match the colour scheme, and we chose the tile because it sat nice and flush together, and it looked modern but still within the aesthetic of the house," Rebecca says.
The final choice was the
Concrete Cambridge
in Soho Night, a tile with a hewn-look profile that matched the era of the house. This product includes C-LOC™ Colour Lock Technology, which means that the chosen colour will last and look better for longer.
With the renovation complete, the three boys – Joshua, Samuel and Ben – love having their own space, as do Rebecca and Ray, who now have their own master suite upstairs.

"I love having space for everyone," Rebecca says. "We have a beautiful outlook onto the bush and we kind of modelled the whole upstairs around our master bedroom, so it sits at the back and with full windows looking out onto the bush, so that's really peaceful."

And while the building process was relatively stress-free – Cape Cod were great, she adds – she is relieved that it's all finished and they are settled into their new, modern and expanded home, and with no plans to move.

"We are never moving. EVER," she says. "We've since done our backyard. So we've kind of done everything now, so we're never moving and we're never doing anything again."
How to create a seamless extension
1.

Use colour to unite all the elements – old and new
Rebecca chose a soft grey as an exterior colour,
Dulux Milton Moon
, rendering the original exterior and extension and painting both to create uniformity.
2.

Look at all the finishing touches
With its 'hewn stone' finish, Cambridge is the ideal choice for an older home, providing a modern, flat profile, with edge details for character.
3.

Ask around for recommendations
Rebecca and Ray chose Cape Cod as their builder because of local recommendations. A parent at the kids' school had used them and they had seen their sign pop up around the neighbourhood on renovations they had liked.
4.

Make sure you understand the location
The Sebastian family wanted to make the most of their bushland views, choosing to position their master bedroom at the rear of the house so they could overlook the adjoining reserve.
5.

Include off-street parking
The original bungalow didn't have a garage, so the renovation encompassed a carport, built in the same style of the house, to provide off-street parking that didn't detract from the home's façade.