Experience counts in the home building industry – just ask Rosewood Homes. Now in business for more than 65 years, it has become well known for its American-inspired cottages, as well modern and contemporary styles.
"We've always had a bit of a signature style with the American-inspired cottages," explains Gina Krajc, Rosewood's Creative Director. "It's a third-generation family-owned-and operated building company and my husband Adam Krajc is the grandson of the founder. He's only taken over the business in the last five years. Before that, one of Rosewood's most coveted homes was the Lavender cottage, an American-inspired federation home."
"The American market has points of difference we can bring to our facades here in Australia that appeal to our customers," says Adam. "The Hamptons look exemplifies this at the moment and was a source of inspiration when we evolved new home designs."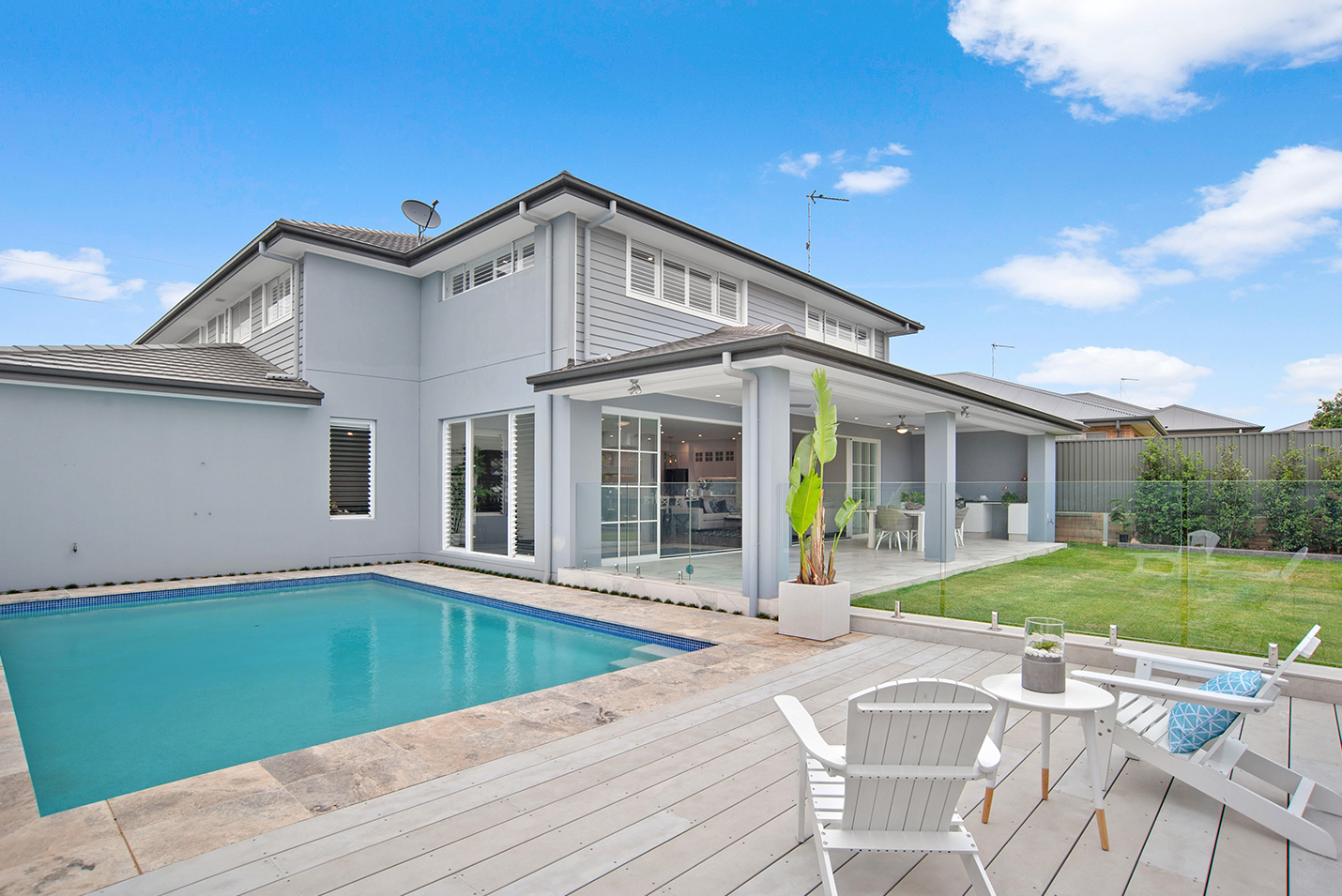 Rosewood's premier Hamptons-inspired home is called the Liana. Gina says their interpretation of the Hamptons theme "incorporates some Australianisation and as such is not a true Hamptons replication, but nor was it ever intended to be."
The Liana is built on a grand scale – it's 61sq m – but Gina says that they are also offering a smaller version, as well as adding some of the Hamptons-inspired facades and features on other homes in their stable.
"There's a lot of Hamptons features on the outside and the inside that we can adapt for single-level homes and smaller two-storey homes," she says. "Things like the Hamptons columns, the slate-style roofing, window styles, colour palette, the cladding, veranda, fretwork, and the panelling internally, all that Hamptons styling can be applied to whatever home we've got on offer."
Monier Roofing products have been selected for the Liana, with Rosewood choosing the Concrete Atura tile in Barramundi colour for their display home in Sydney.
"We love the Horizon tile, but decided to use the Atura tile on this home as it's from Rosewood's standard inclusion range," says Gina. "Although more cost effective than the Horizon profile, the Atura tile still suits the Hampton look especially when paired with the low profile A-Line ridge capping."
"What I like about the Monier range is that they offer both the streamlined look, and the shingle/textured look," Gina says, "And I think either works, depending on whether you're going to build your Hamptons home near the coast, or in the suburbs, and what style you want. Both tiles can achieve a different kind of Hamptons look."
"Rosewood is about quality. We're not really a big quantity builder, we're more focused on quality, service and style."
Because they have been in business for so long, Rosewood has had a lot of repeat business – even stretching into the next generation.
"We've built for empty-nesters, and then we have built for their kids, too," says Gina. "It's really nice to have that continuity, and that's what we're about as well. We've been here for 65 years and we want to continue that for another 65 years. We only use Monier roof tiles because they are synonymous with quality and style and because we believe in aligning ourselves with like-minded businesses."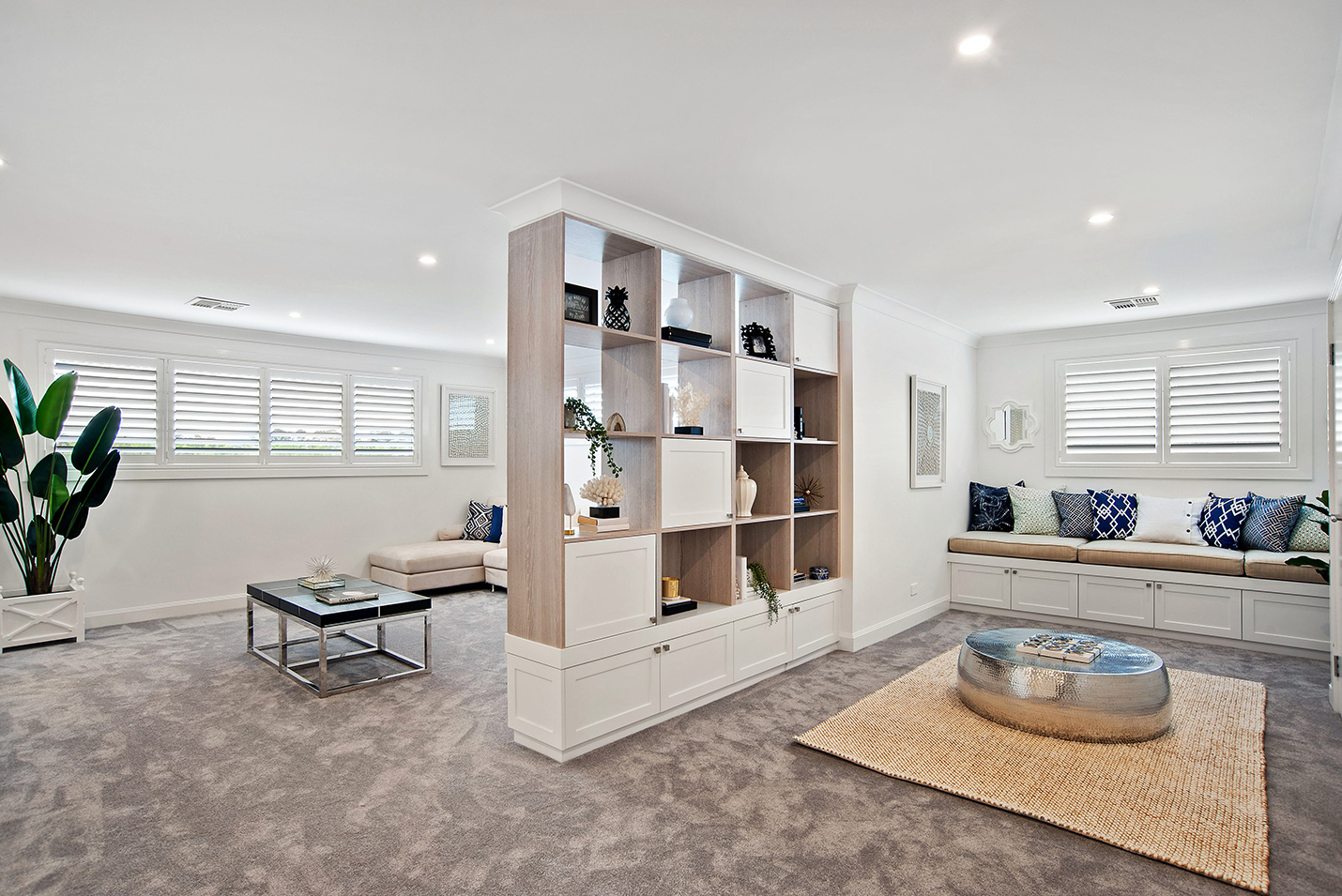 KEY ELEMENTS OF THE HAMPTONS LOOK FOR NEW HOMES
1. A pastel palette incorporating greys and blues
For a typical coastal Hamptons look, soft shades, neutrals and particularly greys, work well. For a more glamorous, formal Hamptons aesthetic, go for darker floorboards with darker grey and blue hues as exemplified in the Liana.
2. Timber detailing
The distinctive timber fretwork and wainscoting of the Hamptons style adds character and personality.
3. Customisation
Just as every family has different needs, tastes and unique building sites, each Rosewood Home is slightly different. "We can customise pretty much everything we do," says Gina. "I don't think we've built anything straight off the standard design floorplan – I think everybody wants their home adapted to suit their requirements. Internally, window seats and feature bookcases (as showcased in the Liana) can also be customised for our clients to enhance the Hamptons style.
4. Streamlined dark tiles
Rosewood Homes offers a choice of colours for roof tiles, but most customers choose the darker shades, says Gina, particularly Barramundi, which is very popular in the Concrete Horizon tile, a smooth profile product. The majority of Hamptons homes also display this trend.
5. Hamptons-style kitchen
The classic lines of American-style kitchens are always popular, featuring an island bench and Shaker-style cabinetry.