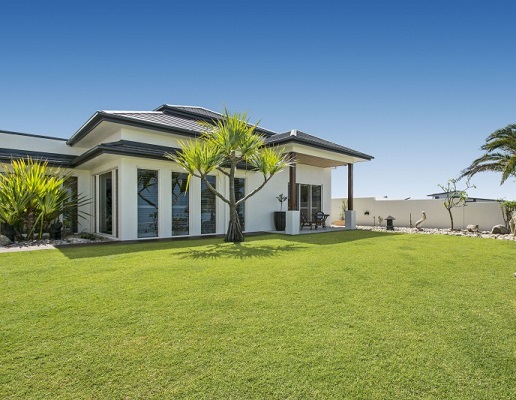 Monier's Madison Concrete tile in Soho Night ...
Monier's Madison Concrete tile in Soho Night ...
In her latest build in Bokharina QLD, Jenny has used Monier's Concrete Madison tile which...
Jenny Trafford certainly knows about building new houses – and where to add value.
A serial home flipper, Jenny has built and sold 15 homes over the last 30 years. She says each time she embarks on a build, she's learnt a bit more, perfected the design a little further and increased the size of the home. Her latest house is the third time she's built this particular design, but the first time she's used roof tiles.
"It's probably one of the nicest homes I've ever built," she says. "I just thought the tiles make it look more classy and it just finishes the home off. The tiles create such striking lines that the roof becomes a real feature.
"If you drive around and look at houses with tin roofs to tiled roofs, you can't compare them."
As a successful small-time property developer, Jenny says that there are two big factors she takes into consideration when building a new property – location and street appeal. She says that because she's located on Queensland's Sunshine Coast, the proximity to water is number one, whether it's the waterways, or the beach.
"I always look at location," she says. "I do extensive research on what's sold recently and what's going to happen in the next five years."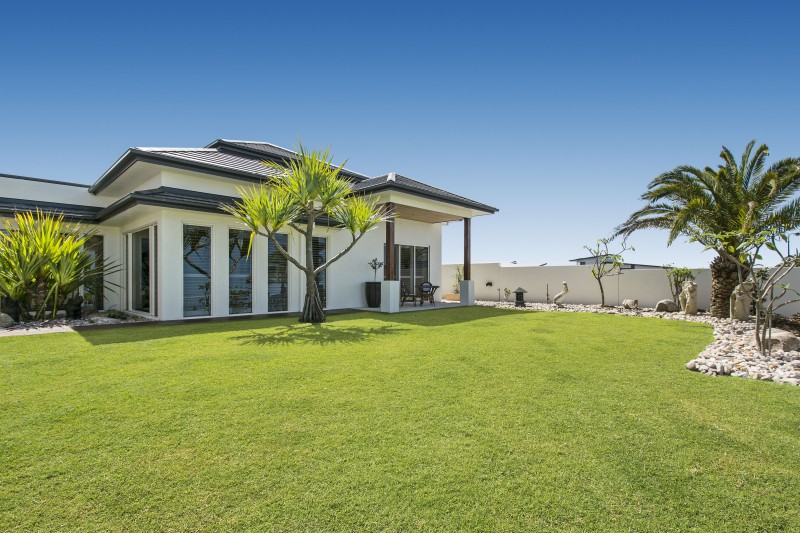 Secondly, she makes sure any build has strong street appeal, which is why she's loving the look of tiles. "They set a standard and make the house seem more solid."

And while she's a convert to the look of tiles, the fact that, unlike metal, they won't rust or corrode in the waterside location also made them a smart choice.

The new house took 11 months to build ("I have some great contractors," says Jenny) and is located in Bokharina, a new island development on Queensland's Sunshine Coast. It was designed by Jenny and has a tropical, Balinese feel, which works well with the holiday vibe of the area.
Madison features a centre shadow line that enhances its aesthetic appeal, creating a minimalist, very stylish and exclusive look.
Concrete tiles get stronger as they age, and the rich dark Soho shade Jenny selected has been treated with Monier's exciting new C-LOC technology, which helps the colour to last eight times longer than with metal roofs.

Jenny and her husband are empty nesters, so while the house may seem a little generously sized for the two of them, they have frequent visits from their children and grandchildren, who end up filling the house nicely.

There are two pools on the property, including a children's pool, and all the landscaping has a distinct resort feel to it. It's almost like being on holiday, says Jenny.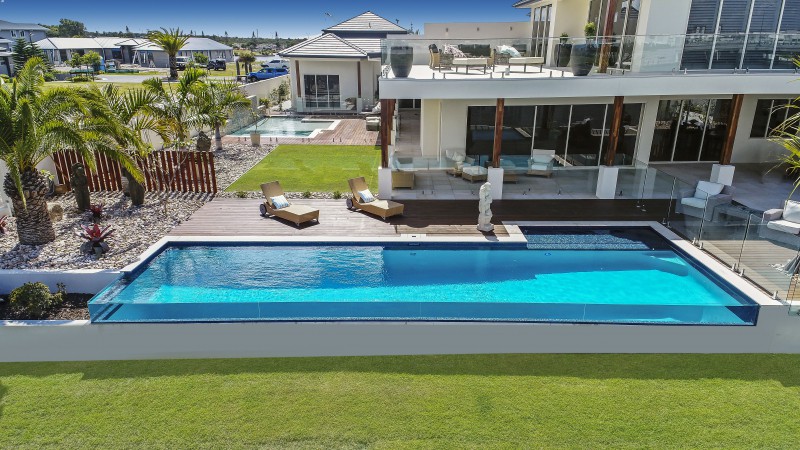 This home was set to be the forever home, but Jenny says she won't say never again – she's often ended up selling because "someone's knocked on the door and offered a good price".

She loves the real estate market – "it's my hobby", she says. "I keep an eye on every property in the market all the time; what's selling, what's sold."

If she builds another home, she says she's going to go with the same design, but perhaps slightly smaller next time. But there's one thing for sure – if there is a next house, the roof will be tiled as well. Jenny says she's not going back to metal.
5 ways to add a tropical feel to your new house
1. Choose flatter, contemporary profile tiles such as the stylish Madison, here in Soho
2. Consider a square-shaped, high-pitch roof over pavilion-styled buildings
3. Palm trees scattered throughout the garden
4. Landscape using gravel pathways and plant beds, for a relaxed- low-maintence look
5. Complement the streamlined roof with rich red-stained timber trims