Every architect dreams of having a trusting client – one that allows you to create a building that is truly special without fear or interference.

Melbourne architect Jane Riddell had just that experience, with a family house she recently renovated and extended in Boroondara, in Melbourne's eastern suburbs.

The house has become known as the Copper Pot house because of its distinctive copper tiles and rich terracotta palette. Riddell took the home's 1920s Californian bungalow aesthetic into the 21st century with a reconfigured floorplan that connected a new open-plan interior with well-designed outdoor entertaining spaces.
The client was an older single man who had lived in the house all his life, but gave Riddell carte blanche to bring it up to date.

"It was a massive leap of faith for him to say, 'It's time to make it mine'," she says, "and replace things that were important to him as a child. We were very privileged, and he was very game and trusting, really. It was wonderful."

The distinctive exterior includes pre-finished copper shingles, which sit beautifully with Monier Roofing's Terracotta Marseille roof tiles in Earth, a traditional choice that blends in with the home's heritage.

Like the Terracotta tiles, the copper shingles won't fade over time, says Riddell, which means that the home owner won't need to do much maintenance at all to maintain its striking beauty.
"I mean, the pleasure of the Marseille roof tile in the Earth colour is that it won't get any fading. We didn't want a material that was either high maintenance, but again, like the brick and the copper shingle, none of them will fade or change over time," she says.
The client's current needs were only part of the brief, she says. "It was about bringing the property into the 21st century and renovating it. He needed to be comfortable with the design, and it was a very inward-looking property before we did the work.

"It had no external relationship and no engagement with the garden. His priority was to sort of unlock the internal layout and provide good natural light. And apart from that, because the volumes were there, it made sense to turn it, if you like, into a family home."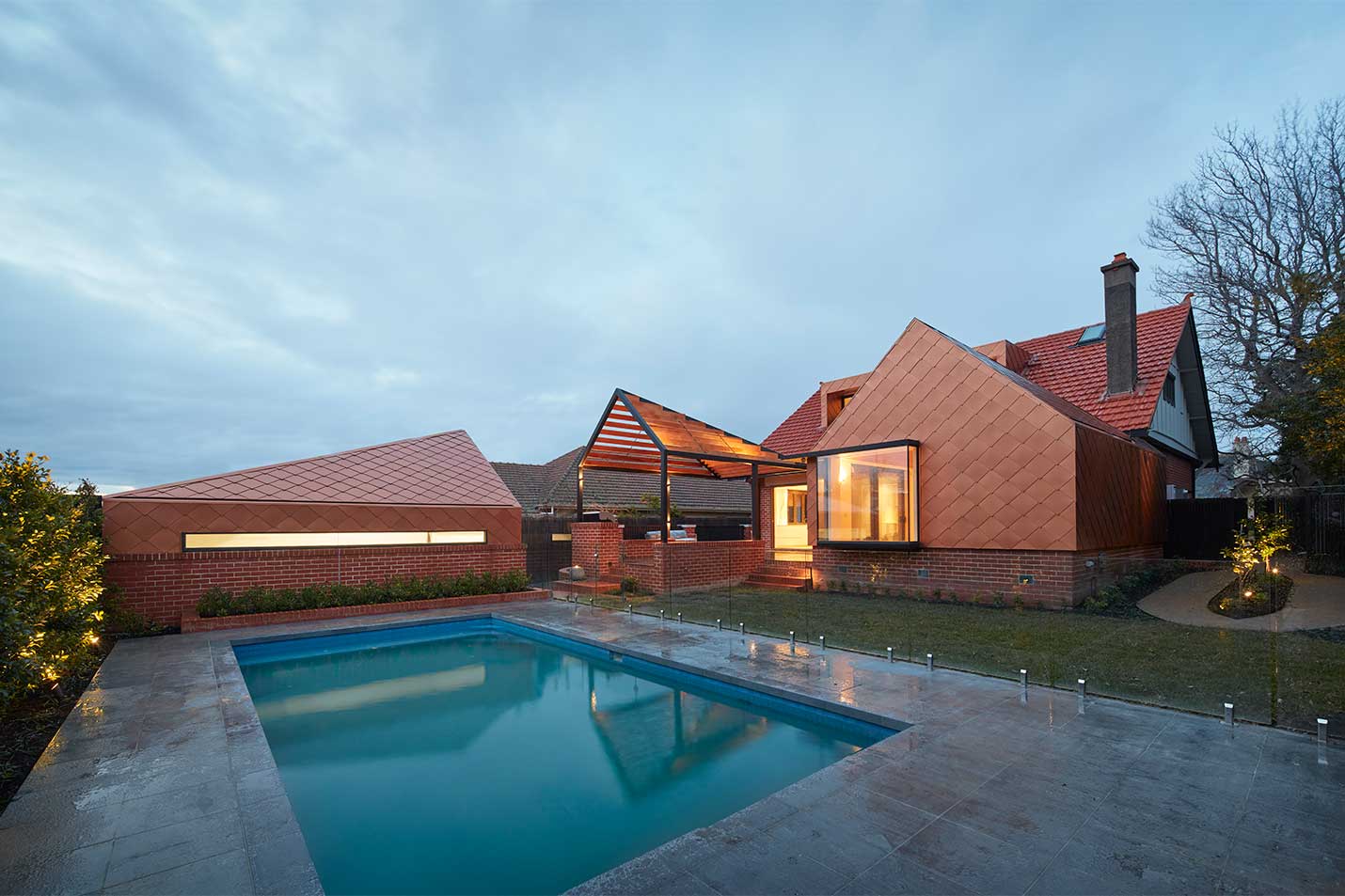 The new extension took advantage of the expansive backyard and also encompassed a pool to give the client more entertaining space.

"It gives him an opportunity to live casually and to have that beautiful relationship with north and west light," Riddell explains. "It's about indoor-outdoor living where we're much more casual, and being able to take a paper outside and sit at the table and have a cup of coffee or have a drink with friends."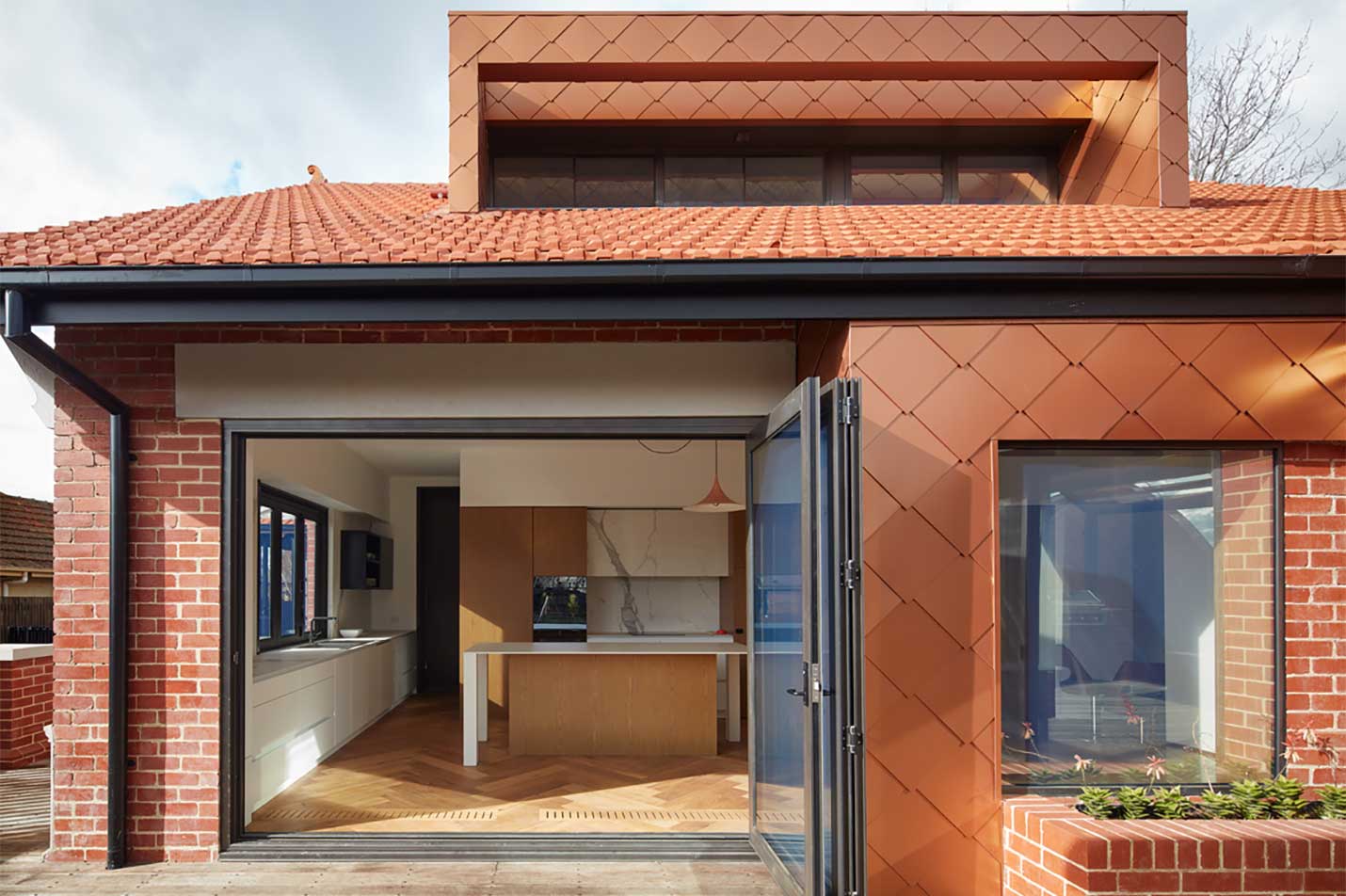 How to create a modern family home
1.

Use similar tones, but add in textures
Architect Jane Riddell kept to terracotta tones to match in with the roof tiles, but layered brick and copper textures to provide interest. Monier's Terracotta Marseille tiles in Earth provided the base palette.
2.

Include outdoor entertaining spaces
Riddell designed this outdoor space to complement the new open-plan kitchen/living area to allow a relaxed place to enjoy morning coffee or entertain friends
3.

Include plenty of grass around the pool area
The new pool area is surrounded by easy-care 600x600mm sawn bluestone pavers from Pavers Plus in Ringwood to allow clear visibility of the space from the interior.
4.

Look to unusual materials to complement traditional choices
Riddell chose Flat Lock Shingles in Copper Penny from Designer Panel Systems to complement the Terracotta roof tiles. She made sure they were pre-finished so they wouldn't fade.
5.

Stick to brick for a heritage home
Classic red-toned bricks were chosen to reflect the heritage considerations of the site and match with the copper and Terracotta tiles.