Why Re-Roof With Monier?
• The roof can make up to 30% of your homes façade, so it has a major bearing on the overall look. Re-roofing creates an opportunity to refresh the design of your home

• Increase the re-sale value to your home by 3% when re-roofing with Monier roof tiles

• Reduce the need for ongoing maintenance of an old roof by using the best products available on the market today. This will also deter additional expenses you may incur by completing a quick fix solution

• Improve the performance of your roof by adding insulation and ventilation to your roof space and consider sarking if your roof cavity doesn't already have it. These factors alone will increase indoor comfort and further protect your home from the harsh Australian conditions

• In some cases, the cost of repairing, fixing, or recolouring an existing roof can cost just as much – if not more – than the cost of undertaking a full re-roof

• Consider installing Monier Solar Roofing products including INLINEsolar™ and SOLARtile™ to encourage energy savings without compromising the street appeal of your home

OUR EXTENSIVE PRODUCT RANGE WILL PROTECT AND KEEP YOUR FAMILY SAFE FROM THE ELEMENTS BY KEEPING THE HEAT IN AND THE COLD OUT, AND ADD A STYLISH FINISHING TOUCH TO YOUR HOME.
UNDERSTANDING THE RE-ROOFING PROCESS.
MONIER'S 10 STEP RE-ROOFING PROCESS

Re-roofing can take 2 to 4 days to complete, depending on the size of the roof. There are 10 steps to the re-roofing process.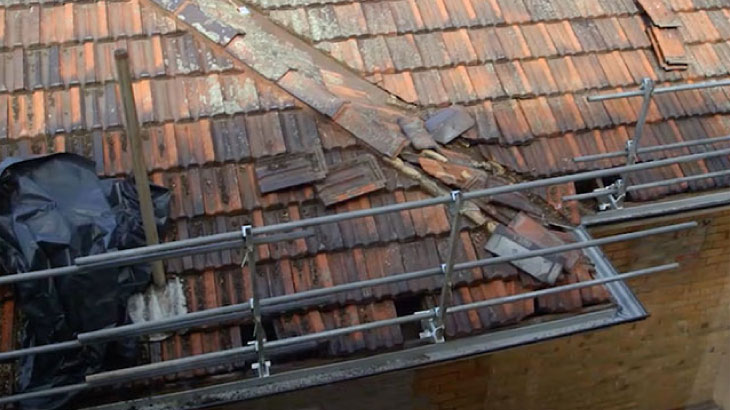 1. INSTALL SAFETY RAIL

Safety is a priority. Before commencing any work Monier guardrail is installed around the perimeter of the roof to prevent roof tilers from falling and to keep your family safe.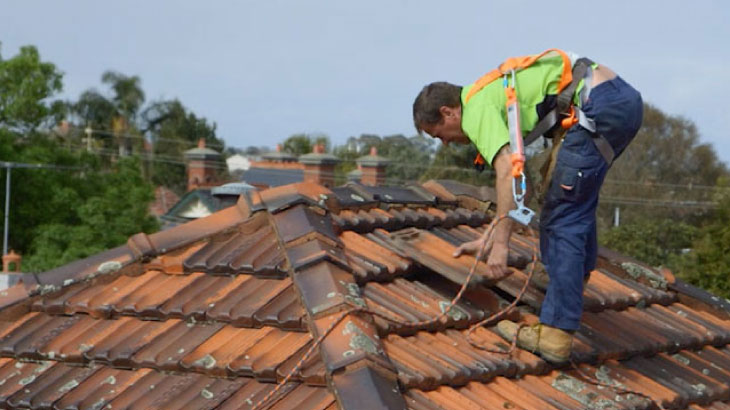 2. REMOVE OLD TILES

All the old roof tiles and ridge are removed.
3. INSPECT ROOF

The roof timbers are inspected to make sure the battens are sound.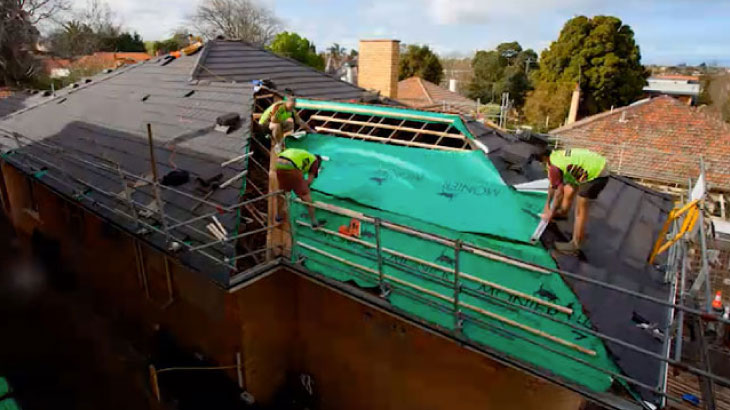 4. INSTALL SARKING*

Sarking provides insulation and reflects up to 95% of radiant heat entering the roof.
5. INSTALL NEW BATTENS**

New battens are installed ready for the new roof tiles to be laid.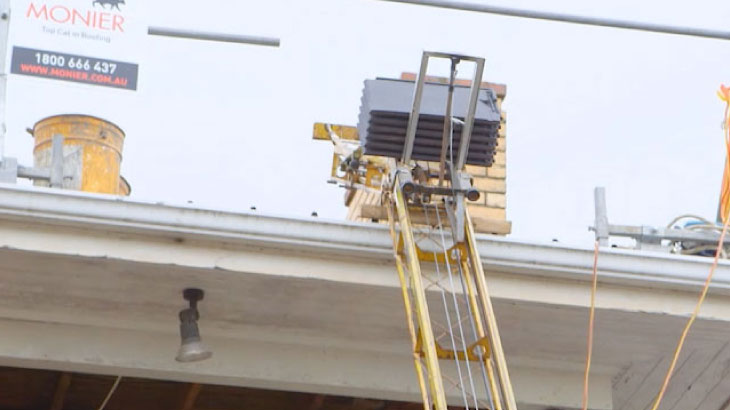 6. LOAD UP NEW TILES

New battens are installed ready for the new roof tiles to be laid.
7. START LAYING NEW TILES

Tiles are laid sequentially up the roof from the gutter line and fixing clips, or nails, are used to secure the roof tiles to the roof.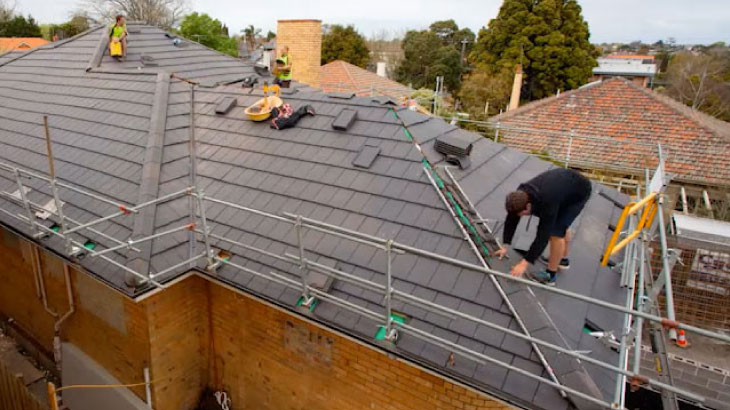 8. RIDGE TILES INSTALLED

Ridge tiles are installed and bedded in place using mortar.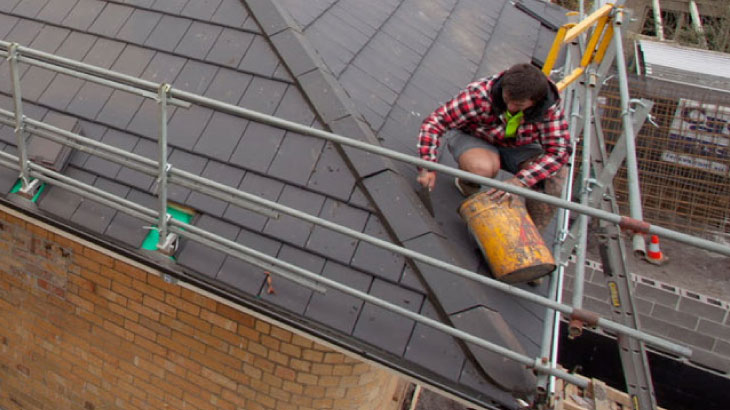 9. POINTING

Pointing is a flexible material that covers the mortar and comes in a colour that matches the roof tile. It acts as a mechanical fastener, keeping the ridge in place. It is also used to finish the tiles at the gable or edge of the roof.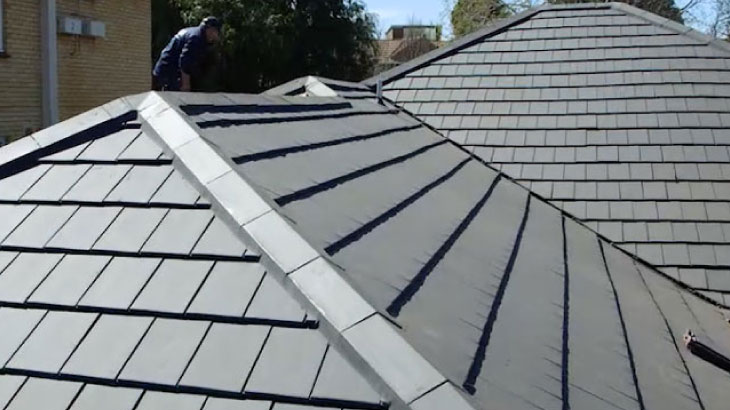 10. FINISH

Guard-rail is removed and the site is tidied and any left over roof tiles removed.
Before and after photos
GIVE YOUR HERITAGE HOME A NEW LEASE ON LIFE
This re-roof transformation uses Monier's Elemental Slate tile in Titan as an alternative to traditional slate tiles!
CLASSIC ROOF TILES TO SUIT ANY STYLE
This re-roof uses Monier's Terracotta Nouveau tile in Titan to maintain the modern feel that the owners were trying to create!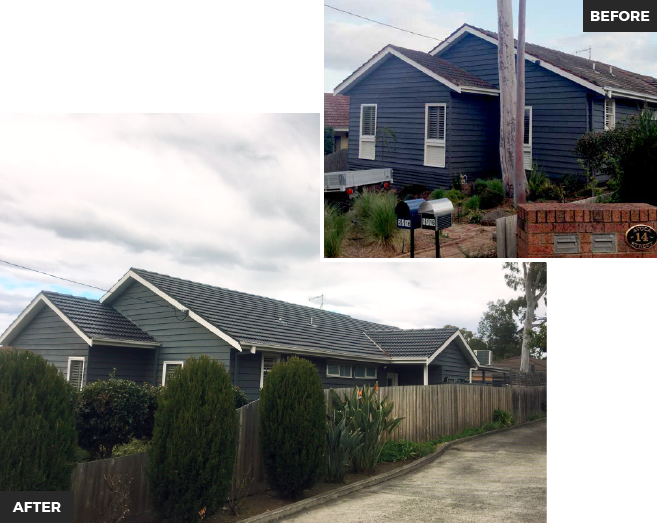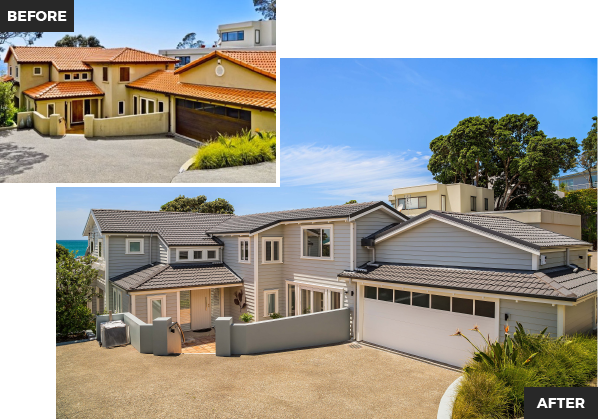 STUNNING RE-ROOF IN NEW ZEALAND
This re-roofing transformation uses Monier's Concrete Tudor tile in Hapuka to give this home a brand new look and feel!
PAY TRIBUTE TO CLASSIC DESIGN
This subtle re-roof uses Monier's Terracotta Marseille tile in Tanbark to preserve the original look and feel of the grand home!