When you are building a new house, there's beautiful design and there's practicality – and it can be incredibly hard to achieve both at the same time.
However, for Brisbane homeowner Kristy Gilchrist and her family that's exactly what they did, with the selection of their Monier Cambridge Concrete Colour Through roof tiles (in Soho Night), along with Monier's newly released InlineSOLAR™ roofing solution. The end result created a perfect coastal look using a slate-inspired roof tile topped off with seamless A-line ridging.
InlineSOLAR™ is an industry first, allowing solar panels to integrate seamlessly into the roofline, and providing the Gilchrist family with a streamlined look, while still allowing them to save hundreds of dollars on their electricity costs.
"People that walk past the house can't believe that we have solar," says Kristy. "The property next door to us has a standard solar panel on it, which is kind of bulky and ours is so good. People just can't believe that it's actually solar and how good it looks.".
Discover more on how Kristy created her beautiful & economical coastal abode using Monier's Cambridge Concrete Colour Through roof tiles - in Soho Night - and Monier's latest roofing innovation, InlineSOLAR™.
On this episode of Open Homes, ex-Block contestant Michael Duffy explores Kristy Gilchrist's beautiful coastal abode where she talks all things roofing & solar including her beautiful Monier roof and of course, details around our latest roofing innovation, InlineSOLAR™.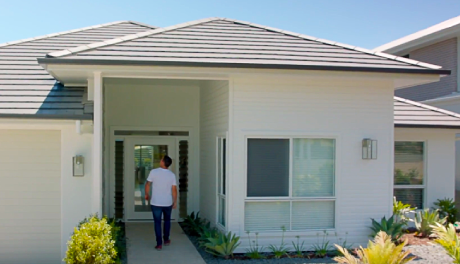 Monier & Open Homes Australia
Monier & Open Homes Australia
Discover more about our latest roofing innovation, InlineSOLAR.
Soho Night is a rich, dark charcoal shade of tile, blending in well with the InlineSOLAR™ panels, and in keeping with the slick modern style that Kristy was after.
"I like roof tiles and that was just the particular colour scheme that I had in mind," she says, explaining that it worked with the contemporary coastal aesthetic she was striving for.
"It's modern and just a really nice design that isn't going to date. It's about clean lines. I love the A-line ridge. It makes it look so modern. And that's what I loved about it. I love the flat grey tile especially with the exfoliated stone edge finish on the Cambridge tile."
However, InlineSOLAR™ doesn't only deliver good looks, it has made a significant difference to the family's power bills, says Kristy – no mean feat as they are a family of five, with two adult children and a 12-year-old girl, which can lead to high power usage.
Kristy's husband Jeff is an electrician and he is particularly conscious of power usage, she says, even going so far as to install motion sensors to stop the kids leaving the lights on for extended periods of time.
The difference in their bills since moving into the new house in September 2017 has been remarkable, she adds. "We've received two bills now since we've been in the house and our bills have gone from $900 down to $350."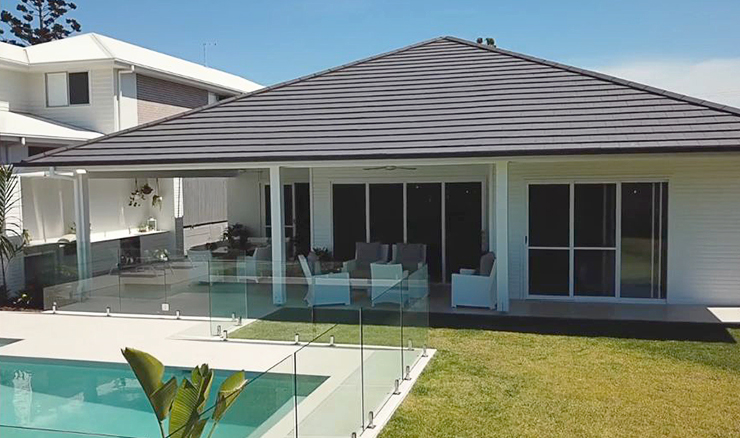 Like most Queenslanders, the Gilchrists have a backyard swimming pool and it's here where Kristy says the biggest savings lie. In previous homes, they have run the pool filter overnight to take advantage of off-peak electricity rates, but now they run it during the day because of the solar panels. And because pool filters use a lot of power, this has made the biggest difference to their bill.
"Especially over the summer we were able to get a real indication of the actual savings for the pool," Kristy says.
"I would recommended it to anybody. We've talked about it several times in previous houses that we've built and we probably were never there long enough to be able to benefit from the savings. But it's amazing when you actually work out what you're saving before it starts paying for itself. And I'd rather be paying that off a solar unit rather than giving it to my energy provider."
The other thing that attracted the couple to the new InlineSOLAR™ solution is the new technology involved.
"The technology in these particular panels is quite impressive," says Kristy. "Sometimes on older solar systems, if there's dirt, dust or something like that on a panel, it actually cancels out efficiencies on the other panels. Whereas on this particular unit, each panel is self-sufficient so if there are bird droppings on one particular part of the panel it doesn't take the other panels out.
"The technology behind these is bound to be ahead of other panels out there."
The InlineSOLAR™ solution is compatible with a Tesla battery, which is part of the future plans for the Gilchrist family. A battery system would allow the energy collected by the InlineSOLAR™ tiles to be stored for later use – even during the evening. Some families even end up returning excess energy to the grid, saving more money.
What's even more important about the technology and energy savings is that the Gilchrists plan to make this their forever home. A long-term investment in solar will pay off. This is their ninth property, with the couple gradually buying, building and selling at a profit to move up the property ladder. This house pulls together all that they have learnt from their eight previous builds.
"We've taken little bits of each one that we've really loved and incorporated it into this one particular house," she adds. "This will be our final resting place before retirement! It's a big block, and they are exceptionally rare to find now because it hasn't been already divided. We were a bit selfish and kept it all to ourselves!"
5 ways to get a coastal look
Fresh from designing her home, Kristy shares her tips on creating a modern coastal look.
1.  Consider a palette of white combined with stone greys, white wash, natural timbers, wicker and rattan.  The beauty of using this neutral palette is you can then accent with any colour to suit your own personality, including duck egg blues, navy blues, coral and soft greys or even a soft sage green. 
2. Add texture and freshness with greenery in differing heights of indoor plants.
3. Use white plantation shutters to create a classic resort look.  With our house, we have used them as part of the design of the home and not just a window finish. We also find that louvres add great cross-flow ventilation and the use of glass assists in creating a coastal look and feel.
4. Choose soft linen fabrics in drapes and bedlinen, for a relaxed, luxury finish.
5. Opt for VJ board panelling internally to create feature walls with texture without having to use a "feature colour" and interrupting the muted palette.