A dream home that becomes reality.
For retired builder Craig Baxter, building his dream home in the Noosa hinterland was all about celebrating the outdoors, while still being sheltered from the elements.

The Balinese-style five-bedroom home, complete with pool cabana and separate pavilion, was a large project, taking 2½ years to finish and boasting a generous 370 square metres. Designed to take advantage of the moderate Noosa climate with airy open-plan living and a pool, it has become a relaxed sanctuary for Craig and his wife Jane.

The family has lived in the area for five years, and owned the land for two years before construction started on the house. "It's a beautiful spot," says Craig.

The pool was constructed first, then the house, the pool cabana, then the pavilion, finally followed by the garages.

The house was an entrant in the prestigious Robin Dods Roof Tile Excellence Awards for 2017, winning accolades from the architectural and building community. 
Monier Tiles Deliver Sophisticated, Clean Lines
Critical to the look and feel of the home was an impressive series of Monier tiled roofs on all the linked buildings, echoing the Asian feel and complementing the rendered exterior.

Craig and Jane were the designers and decision makers in the project. Craig chose the Madison concrete tile in Soho Night and couldn't be happier with the decision, feeling the shingle-style and minimalist look of Madison provided the tropical look he wanted to capture. 

The sophisticated clean lines of the tile also helped to blend the many roofs of the property into one cohesive unit.

"I prefer a slate look to Colorbond™ roofs," Craig says. "We also loved the smooth profile that Monier offered
rather than the rough textured finish that dominates the roof tile market."

"I think the tiles add sophistication to the home," he adds. "They also make the roof more prominent and dramatic and the series of roofs help to establish a resort feel that we are trying to create on the property."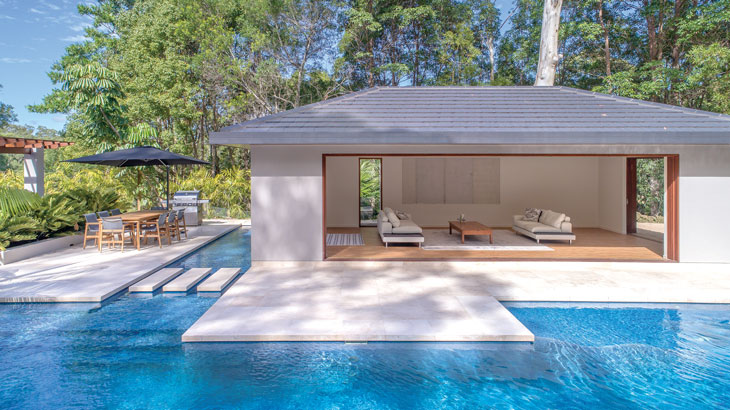 Roof Colour Adds to the Landscape
The house and associated buildings sit on 30 acres and are located in a prestige area of Noosa. Craig wanted to make sure the roofing materials would be suitable for any prospective buyers down the track.

"We felt that the tile offered a more upmarket look for our acreage," Craig says. 

As for the colour, he adds that the decision was a considered one as well. "We wanted the home to stand out but also sit well amongst the landscape," he says. "We have used a series of render, timber and stone materials throughout the property and felt that the dark roof helped to complement and highlight and contrast the other materials used." 

So, as a retired builder, is he the perfect client, or too particular? He laughs.

"I got someone else to do the house and I just did the other bits," he says. "I am particular, but as long as everyone does the right thing, everything's good. With this project, everything went smoothly and all worked out well."