There's a certain skill in recognising an opportunity in the building game – and taking advantage of it. While it's traditionally about location, location, location, it's also about developing a strong team and having an instinct for these opportunities when they present themselves.

Teacher Sam Carolan and her husband John of Skope Constructions (along with their small investment team – John's brother Brent and Bec Carolan and another friend David and Amanda Perryman) have been buying unloved and ugly houses throughout Sydney's upper north shore, knocking them down and replacing them with modern, classic homes, all with the help of the team from Rosewood Homes – then reselling at a healthy profit.

"We've done a lot of renovations over the time through our own business, Skope Constructions, but we have found that knock-down rebuilds with Rosewood Homes are the better way to go, definitely," explains Sam. "Gina and Adam from Rosewood are great to work with, and if I want to tweak the designs and change some things, it's not a problem."

Sometimes these projects have been their own home, other times they have been simple investment prospects, like this house in Roseville, built with Rosewood and sold without the family ever living there.

"We've moved houses quite a bit, our daughters are used to it, but I don't move out of area – so they've never moved schools, we've just moved houses. So I just stay within the area and if I see an opportunity I go for it."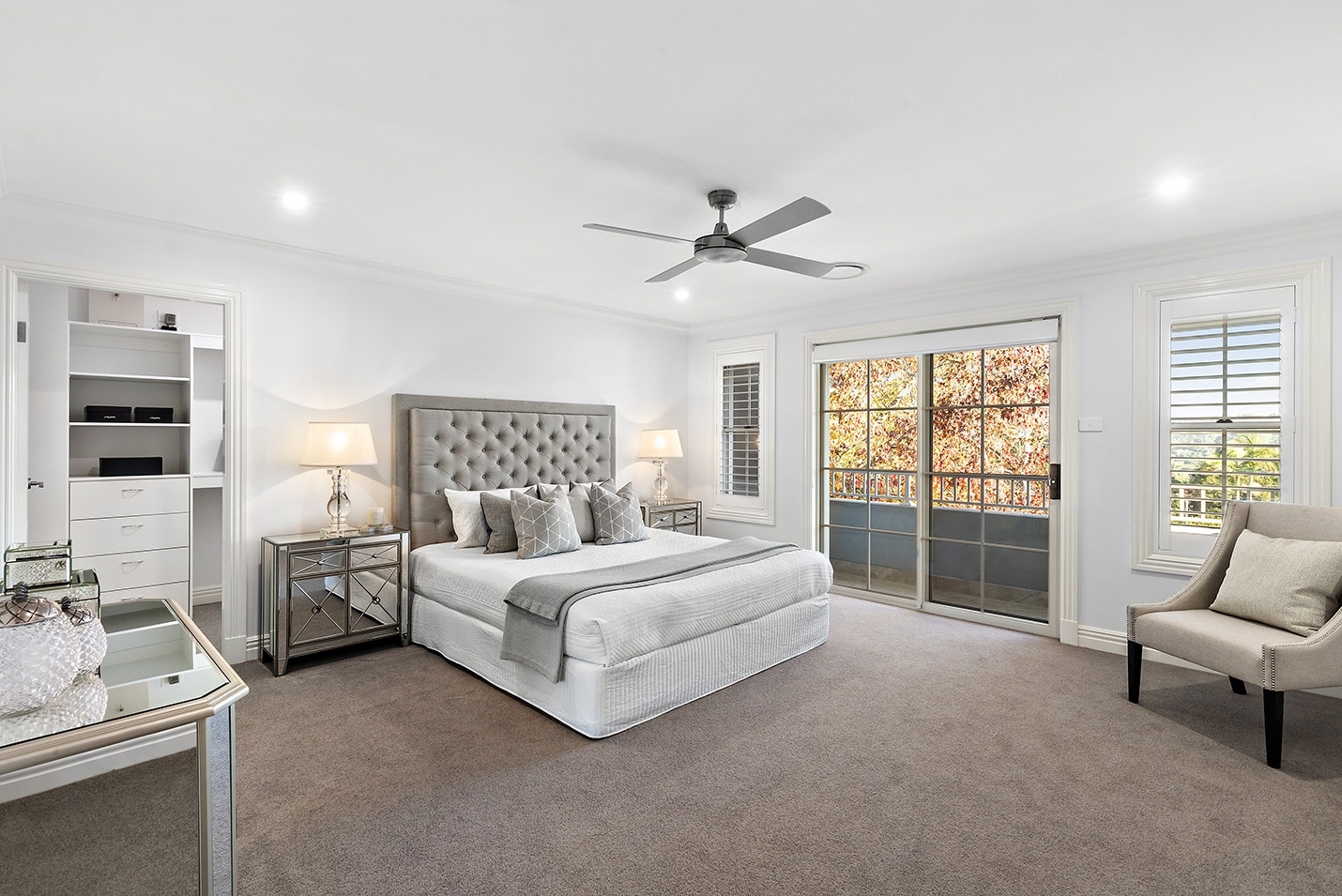 The plan for Lindfield

This house, the Aspen design was custom designed for the site, it has a Hamptons look and feel, which Sam says was new for Lindfield, but received very well by prospective buyers.

"I've always loved what Rosewood had come up with to match the Hamptons-style look," Sam explains. "Because we're on the North Shore especially there seems to be a lot of homestead-style homes, but no one had really come up with the Hamptons-style look, which was something a little bit different and fresh for the area. And I've always loved those colour tones, so I went down that path and it worked really well for us."

This project was another knock-down rebuild on a carefully chosen site. "We like to look for little red-brick 'nanna' homes, the old ones, with a good block of land, and a nice area, which caters for that sort of look," she says.
Roofing choice

When it comes to the roof, Sam says that the sophisticated look of Monier's Concrete Horizon tiles in Barramundi perfectly complemented the style of the home she wanted to create.

"I've always wanted that flat, sleek look within the tile," she says. "Working with Gina and Adam, I just say this is what I'm looking for and this is what I want to do, and they provide the product. "We trust that the product they recommend is in line with our quality requirements, which are high as you can imagine, being in the construction industry ourselves.

"Metal is not always practical or always the best way to go, and especially when you're selling a home for well over three million dollars or so, you need to have a good quality. It's all about a beautiful slick look, so. And I love those colours, as well."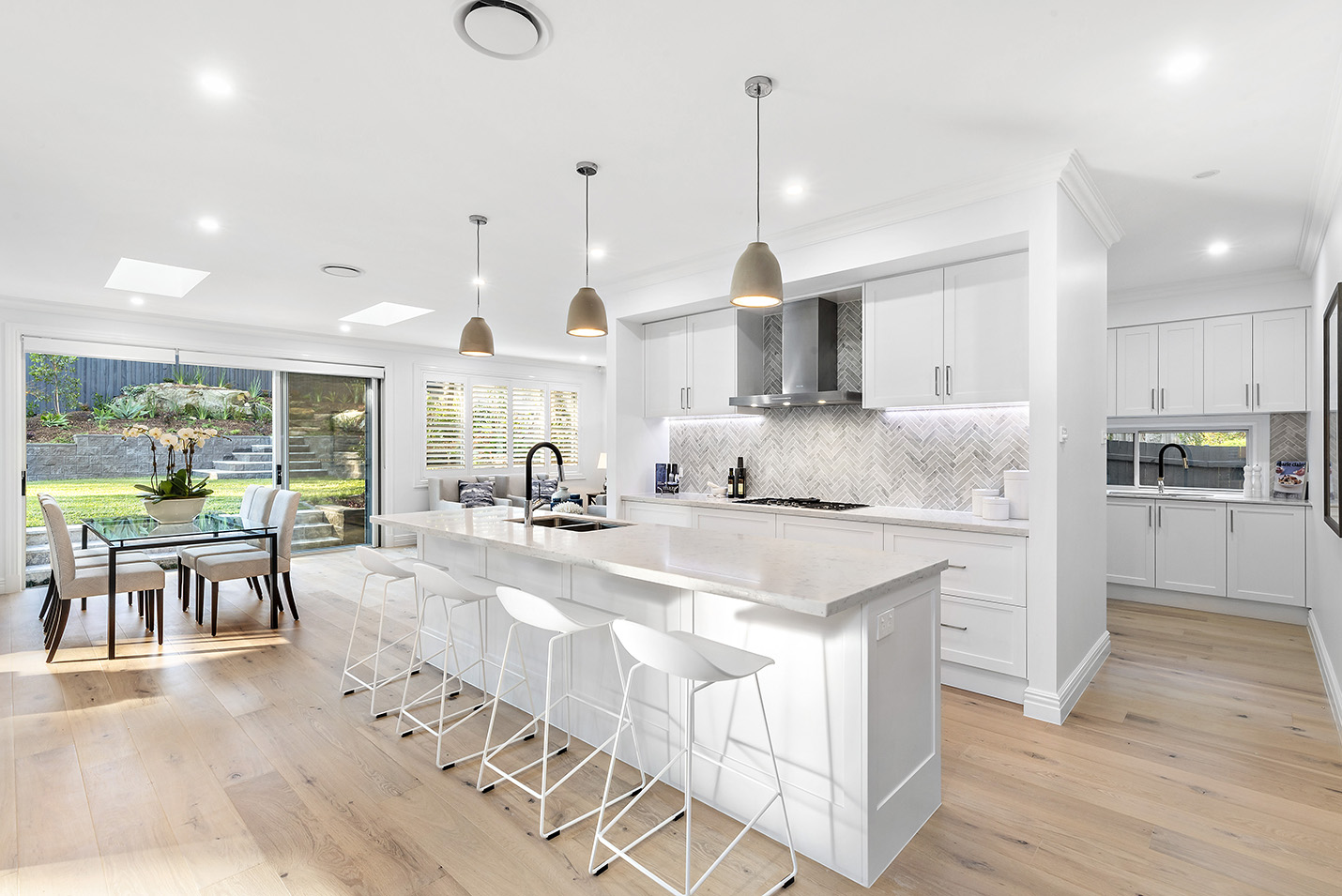 Open-plan living

A successful new home that appeals to modern homebuyers is finding a design such that encourages open-plan living, says Sam.

"To be able to see everyone is really important, especially with Lindfield, where you can see out the back and the pool and everything, from the kitchen and living areas and family areas," she says.

"I just want indoor-outdoor living – I want to be inside, but feel like I'm outside, and I'm just all about light. If I don't have natural light and natural spaces and lots of light coming in, I'm terrible. And I think the majority of people are like that. Rosewood helped design the home to capture that natural light by positioning the home and living areas a certain way on the site and then adding features such as skylights and lots of floor-to-ceiling glazing."

"Even on a rainy day, it's so nice and cosy to be able to see everything outside but be inside. It about big, open, wide-plan living areas, because I think that everyone's moving away from the formal lounge areas, and formal dining areas, and just combining them into that indoor-outdoor area."