Watch the latest episode of Open Homes Australia below, featuring
Nullarbor Terracotta tiles
in Peak on a stunning Hamptons style home!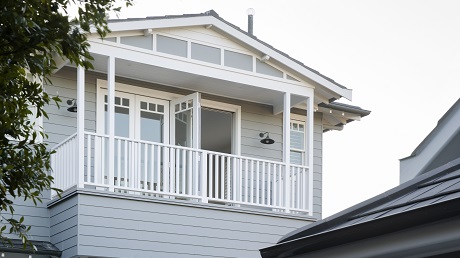 Open Homes Australia featuring Nullarbor...
Open Homes Australia featuring Nullarbor...
Terracotta tiles are extremely resilient – which is important given that they are in a beachside...
There is a misconception that creativity and organisation are a rare combination, but Rebecca is living proof that this doesn't ring true. Super-organised Rebecca has created a beautiful new home for her family, which includes her husband and three active boys, aged 12, 10 and 6.

Located high on the hilltop in Sydney's Bronte, their newly renovated home evokes all that is special about the Hamptons look, but with a more relaxed, family vibe.

An experienced renovator, Rebecca says she had a clear idea of what she wanted to achieve – and the team she needed to pull her vision together. Firstly, she chose Cape Cod (capecod.com.au) as her builders, who had renovated her last home a few hundred metres away – bringing them to see the house even before she'd purchased it.
"The last house wasn't anywhere near the size and scale of this project, but that was our first experience in working with Cape Cod and we got to understand the process a lot better. We formed excellent relationships with their architect and construction manager, and all of their key team, including subcontractors."
Rebecca immediately saw the potential of the new house, a heritage-listed, 1921 Californian bungalow (in near-original condition). It stood on a large flat block, just moments from Bronte Beach. By extending the ground floor and adding a second storey, they could capitalise on the magnificent ocean views.

"We had a couple of discussions with Cape Cod's architect before we proceeded with the purchase," she explains. "We had a very clear idea of what we wanted. We know the way in which we like to live and we love entertaining. The design is open-plan yet there's ample living spaces to retreat to if we wish."

"There was no question about the design style that we wanted, both from an exterior point of view as well as the interiors," she says. "We are so close to the beach, so I really wanted that elegant coastal home."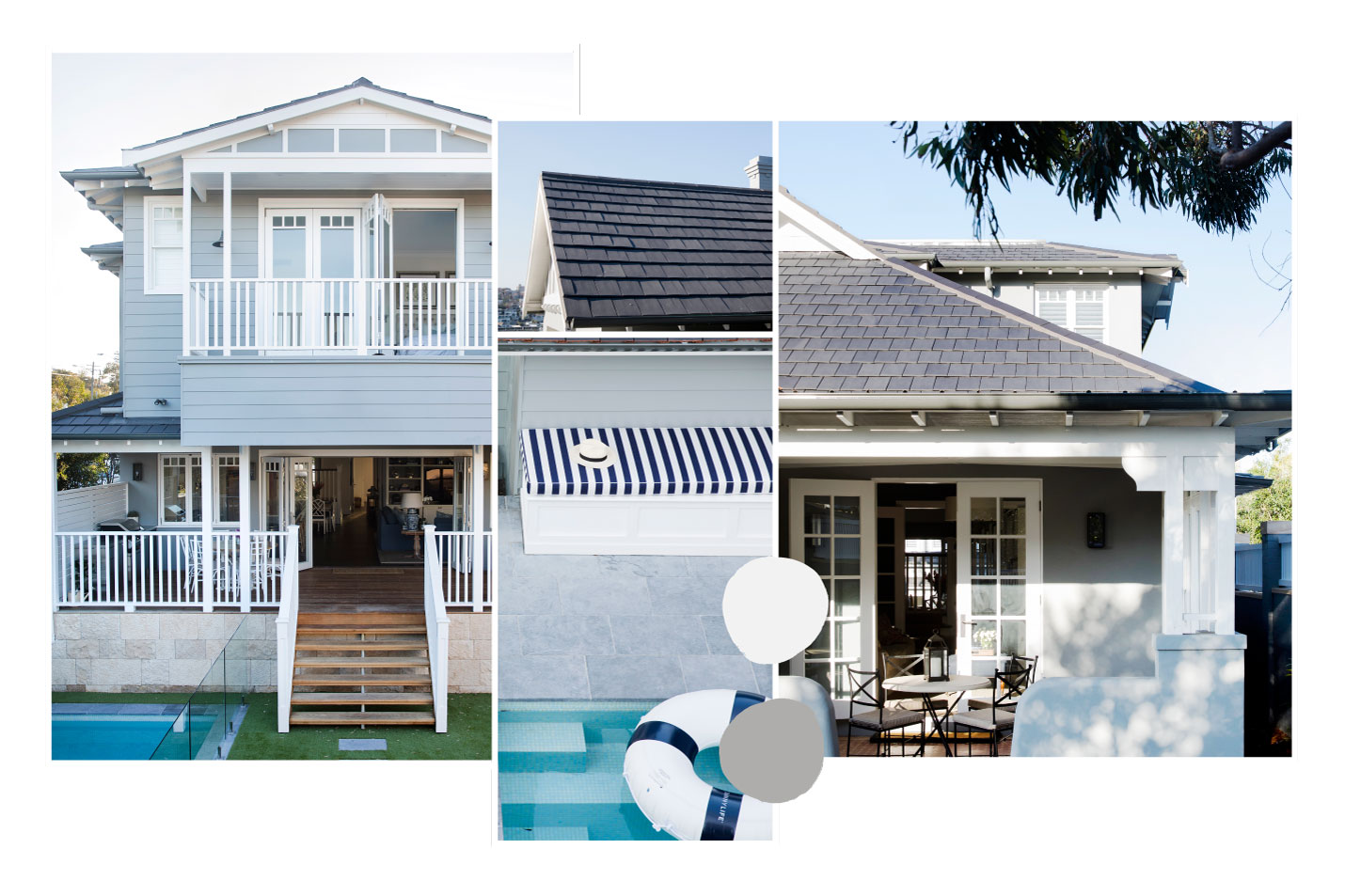 "We had a more casual Hamptons style in our last house, but this time around we were more specific about the finer details, such as the rugs, beautiful fabrics for sofas and scatter cushions, bespoke hardware and lighting, tapware and Carrara marble. The end result is just beautiful. It's everything I'd envisioned and more. Other styles have their place, but the Hamptons style suits our family and this location just beautifully."

Interior designer Denai Kulcsar worked with Rebecca on the interior touches, while Good Manors did the pool and landscaping design and construction.

Rebecca was originally thinking of using American shingles on the roof, but concerns about supply – and the cost – made her reconsider, choosing Monier Roofing's Nullarbor terracotta tiles in Peak instead. Nullarbor was recommended by Cape Cod, and she couldn't be happier with the result.
Terracotta tiles are extremely resilient – which is important given that they are in a beachside location, and the colour will withstand the elements.
"The roof is just beautiful," she says. "I sit on the back porch looking back at the garage structure – a lot of the roof is very visible and I think it was the best choice we made. It is way more practical and hard wearing than shingles and it won't fade, which was really important."

She says she even loves the low-profile capping on the roofline, which gets a starring role on top of the garage, which frames the backyard pool.

"And we really had this view in mind when we were making the decision," Rebecca adds. "I think it's the attention to all the details that makes it all come together. The rear cottage-like structure is pretty and given that the roof is so visible, I think we nailed it."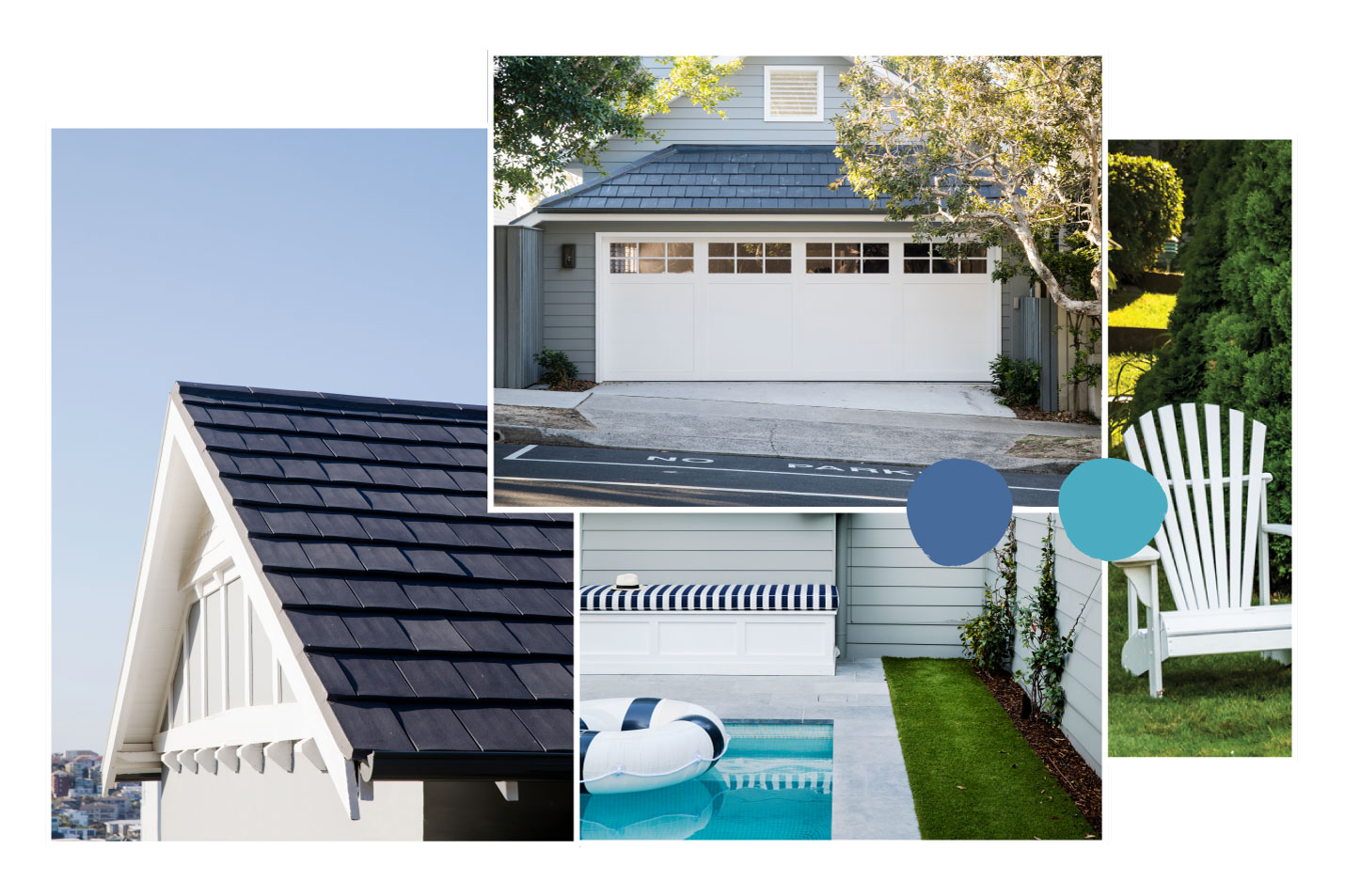 Getting the details right
1. The perfect pool tile
Rebecca had a particular blue in mind for her pool, working with the team at Good Manors, who sourced the 'Azari' tiles from Bisazza.
2. Bifold timber doors
Timber doors from Stegbar, on the back porch and off the main bedroom can open out for an easy flow between indoors and out.
3. Shingle-look tiles
Rebecca chose Monier Roofing's Nullarbor terracotta tiles in Peak to create a look of shingles, without the upkeep.
4. Custom-made joinery
The built-in timber bench next to the pool was made by Good Manors and serves a practical purpose by hiding pool equipment.
5. Crisp white for contrast
Rebecca had a custom garage door built by Personality Garage Doors painted in Lexicon Quarter as a contrast for the exterior weatherboards in Klute. (half-strength).