Design trends are interesting – they can appear out of nowhere and suddenly are everywhere. For instance, five years ago, no one outside of the US's Long Island seemed to have heard of The Hamptons, and now almost every volume builder has a Hamptons-style design on offer.
So what is the 'new' Hamptons? The emerging trend of French Provincial style homes also has an enduring feel. Elegant in style, simple in execution, this new style of house is gaining popularity because of its character-filled details and classic chic.
The inspiration
Inspired by French country houses and chateaux, the French provincial look has a soft, neutral colour palette with warm undertones, curvaceous timber detailing and a slate or shingle-style roof. These are houses that are designed to age well and will stand the test of time.
Indeed, their warmth and comfortable feeling has been particularly welcoming in this post-pandemic era.
Paired with interiors that include natural and rustic timbers, worn surfaces and natural fabrics such as linen and cotton, this style of home won the approval of Melbourne's Joanne Howell who was looking to build her new 'forever home' in the suburb of Templestowe.
Howell designed her new home herself, inspired by the French provincial style after months of planning that included trips to display homes as well as hours of online research.
"There is a lot of choice out there," she admits, "but I did spend time researching and deciding what I wanted."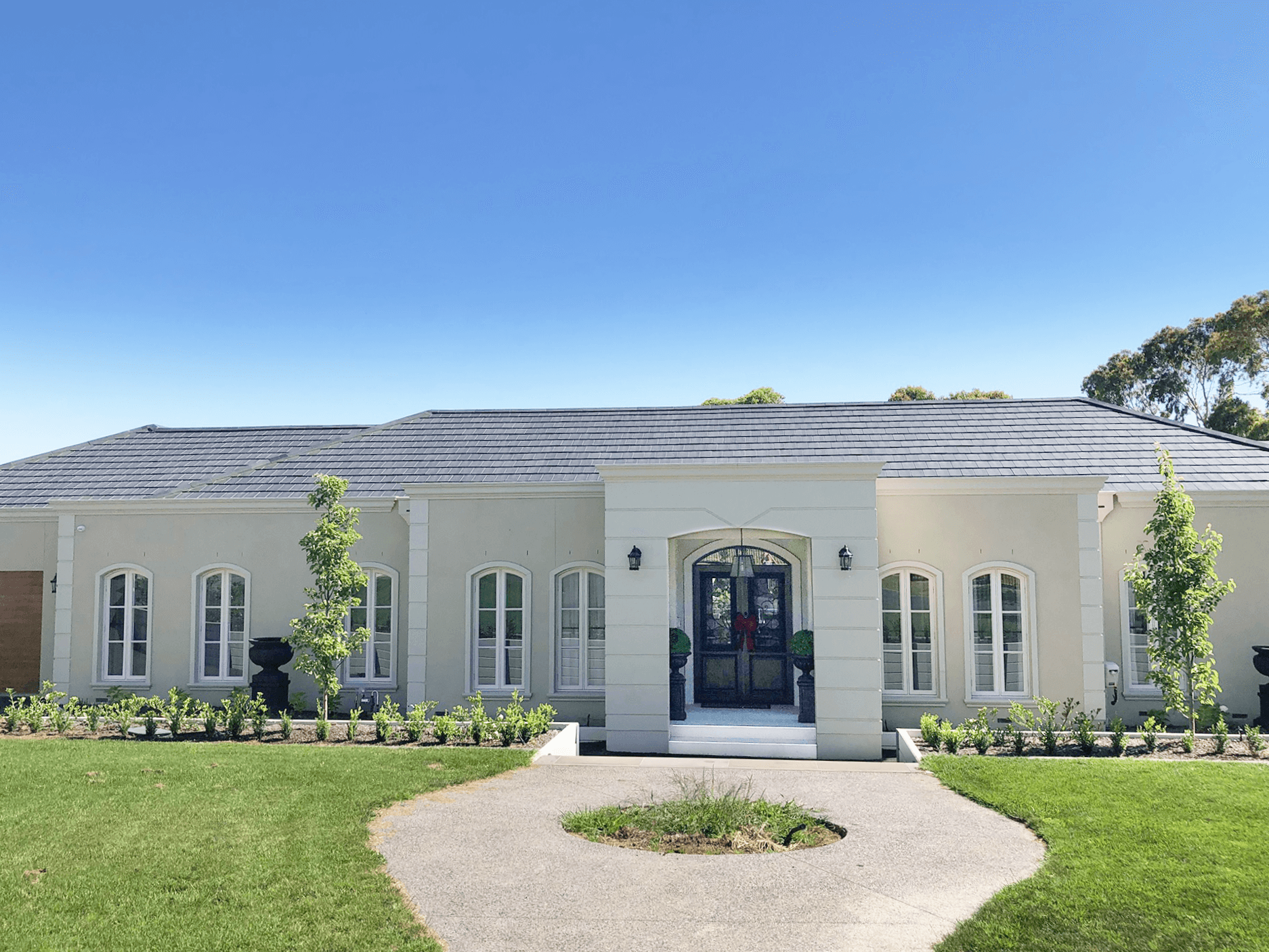 The roofing choice
Howell chose a Monier flat terracotta tiles in Titan, for her roof, a rich dark metallic shade that carefully complements the softer, warmer shades of the exterior render in Dulux Evening Haze. The current flat terracotta tile available at Monier is the Urban Shingle.
Because the roofing material is terracotta, the dark shade won't fade, even in Melbourne's capricious weather. Monier's Terracotta roof tiles are guaranteed for 50 years, making them the perfect choice for a forever home. Maintenance is minimum, while colour retention is maximum.
"I've always wanted terracotta," explains Howell. "The durability and the quality are important to me. I also wanted a flat profile, which I think is more elegant and suits the French Provincial look."
"I chose the A-Line ridge capping for a streamlined finish to match the look I wanted."
The home
Situated on an acre, with landscaping now just settling in, Howell says the house is built on generous lines, with five bedrooms, including a study, all designed with Howell's growing family (she has two young children) in mind.
Construction was undertaken through local builder Bill Kosmano of BK Builders and took about 15 months, with the Howell family renting nearby.
About Terracotta Urban Shingle
Monier's Terracotta Urban Shingle tiles are contemporary in style, delivering a flat and seamless roof profile. Featuring all the premium Terracotta characteristics, including a modern selection of colours, Urban Shingle has a unique rolled nose, making it ideally suited to the Hamptons and Mid-century modern home designs. Urban Shingle Roof tiles provide quality, style and elegance to your home.
Interested? Find a display home to see Urban Shingle in real life.