Building a new home comes with many decisions – often ones that may never have occurred to you before you embarked on this process. Too often we get sidetracked by the tiny details and don't even consider the big choices we are facing, including the roofing material.
New homeowners may not realise that the roof of their new home takes up at least 30% of the exterior, so it's vital to get it right. You never get a second chance to make a first impression! Here are our top tips to guide you in confidently selecting the right roof for your home.
DESIGN OF YOUR HOUSE
It's good to start with the big picture – what style of home are you looking for? Take a tour (either around your new neighbourhood or online) and start noting down your favourite looks.
Are you drawn to the classic Hamptons aesthetic, or perhaps the newer Modern Farmhouse style? Or, perhaps you are more of a minimalist, preferring clean lines? Not sure? Get inspired with Monier's Lookbook which includes eight of the latest home trends and how to achieve them, from the roof down.
Don't think about colours at this stage, look for architectural features – shingle roofs, Mediterranean detailing, sharp edges – that you admire and start a moodboard.
A moodboard (or Pinterest board) is a great way of compiling some of your favourite looks and helping you understand what you are looking for in your new home. As your collection of inspirational images grows, you will get a sense of what design style appeals to you and you can take it to your building designer or architect to get things started.
The below mood board is taken from the PGH Style Guide – Hamptons At Home.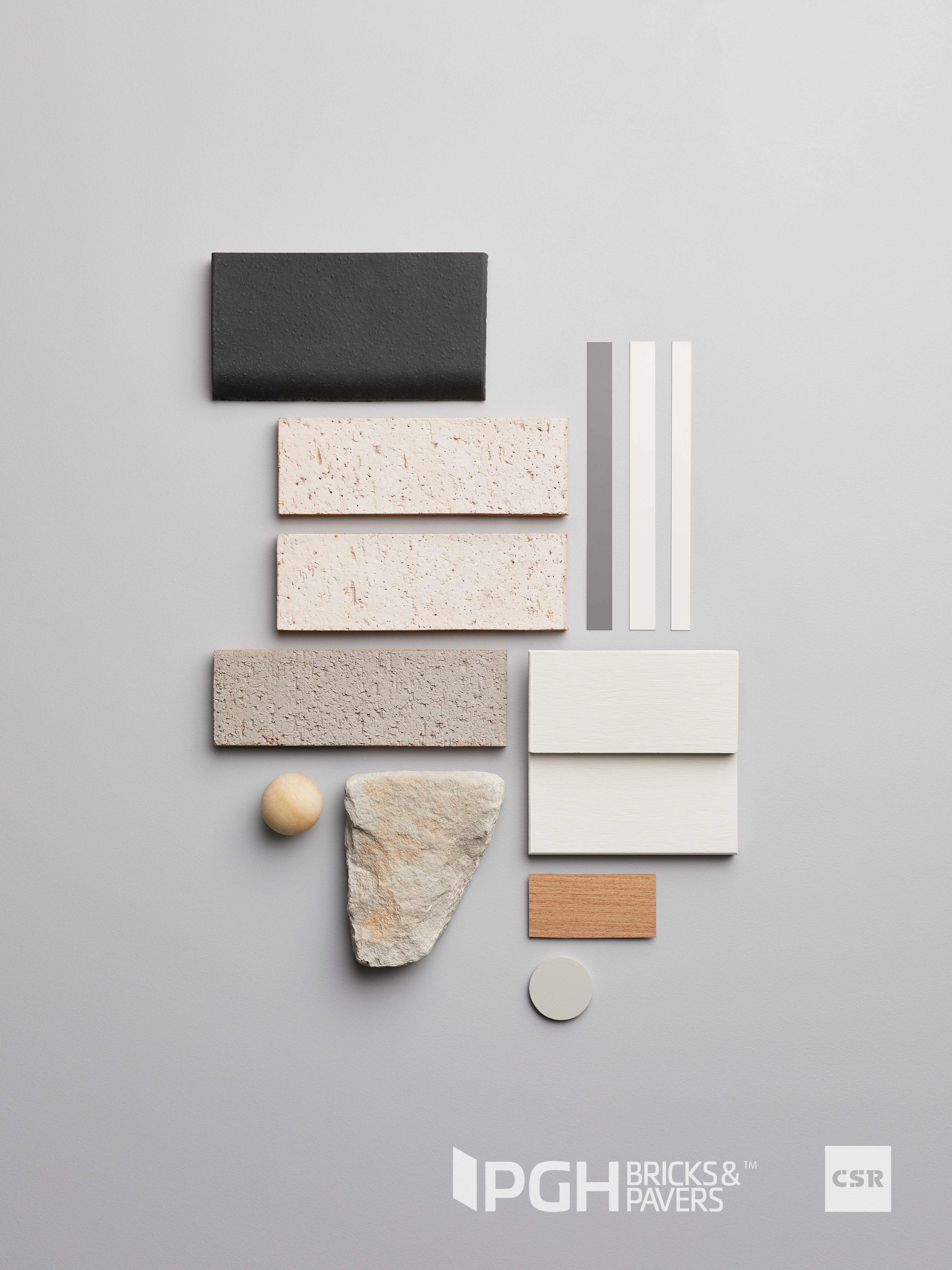 Products used to achieve this style includes; HAMPTONS AT HOME FEATURES PGH BRICKS SIMPLY HAMPTONS – FRESH WHITE | PGH BRICKS COASTAL HAMPTONS – DRIFTWOOD GREY | CULTURED STONE® DRESSED FIELDSTONE – ECHO RIDGE | CEMINTEL® BALMORAL™ – DULUX® MOUNT BULLER | MONIER ROOFING TERRACOTTA URBAN SHINGLE – PEAK | COLORBOND® BASALT® | COLORBOND® SURFMIST® | DULUX® LYTTELTON DOUBLE | TIMBER FINISH – NATURAL | BACKGROUND DULUX® ACCORD
THE RIGHT COLOUR
Once you have a feeling for the style of home you are planning, it's time to settle on a colour palette for your roof. Dark shades have been hugely popular in recent years, especially the ubiquitous Sambuca, but there has been a move away from the charcoals in favour of softer, lighter greys, as well as whites and neutrals (Salt Spray has been a huge hit recently). Traditional terracotta shades and other warm tones are also making a comeback, especially in established suburbs. You can choose from a huge variety of shades in Monier's tile collections.
Designing from the outside in will help inform other key decisions when bringing your exterior colour and material choices to life including your fascia, gutter, window trim, brick and even cladding choice. Visualising your home with iDesign by CSR is a great way to experiment and put into application your inspiration to get an idea of how your home will look.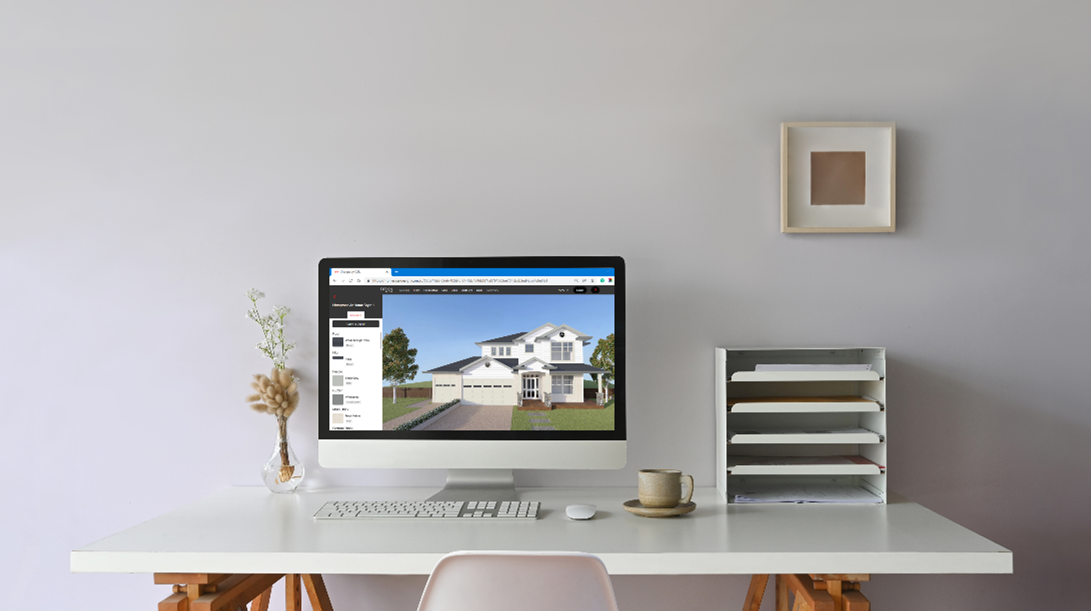 CHOOSE YOUR MATERIAL
Roof tiles are the best choice for most Australian homes because they are strong, provide superior thermal performance, more beautiful and suitable for all areas of Australia (whether inland or on the coastline), which are backed up by Monier's 50-year performance warranty. To learn more about the benefits of roof tiles visit our website.
Monier has three Collections to choose from when selecting your roof tiles – Luxe, Premium and Classic.
Luxe Collection
The name for Monier's Terracotta range, Luxe Collection, includes timeless designs and the confidence knowing that the colour will last a lifetime. A Terracotta roof will embrace all the elements and will not fade.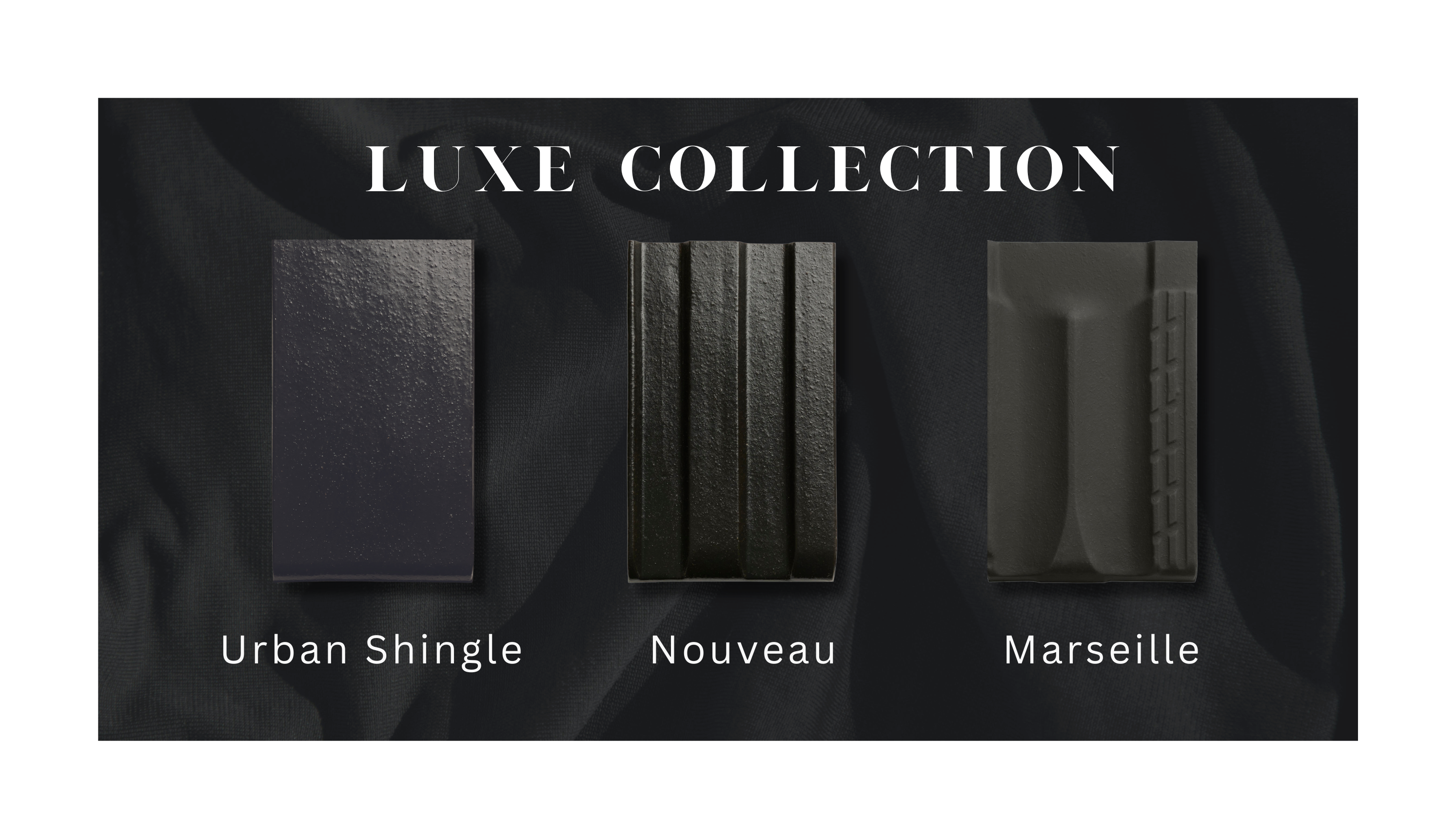 Premium Collection
The concrete Premium Collection comes with C-LOC™ Colour Lock Technology providing better UV protection to improve gloss retention of the tile. Colour looks better for longer compared to competitor concrete tiles.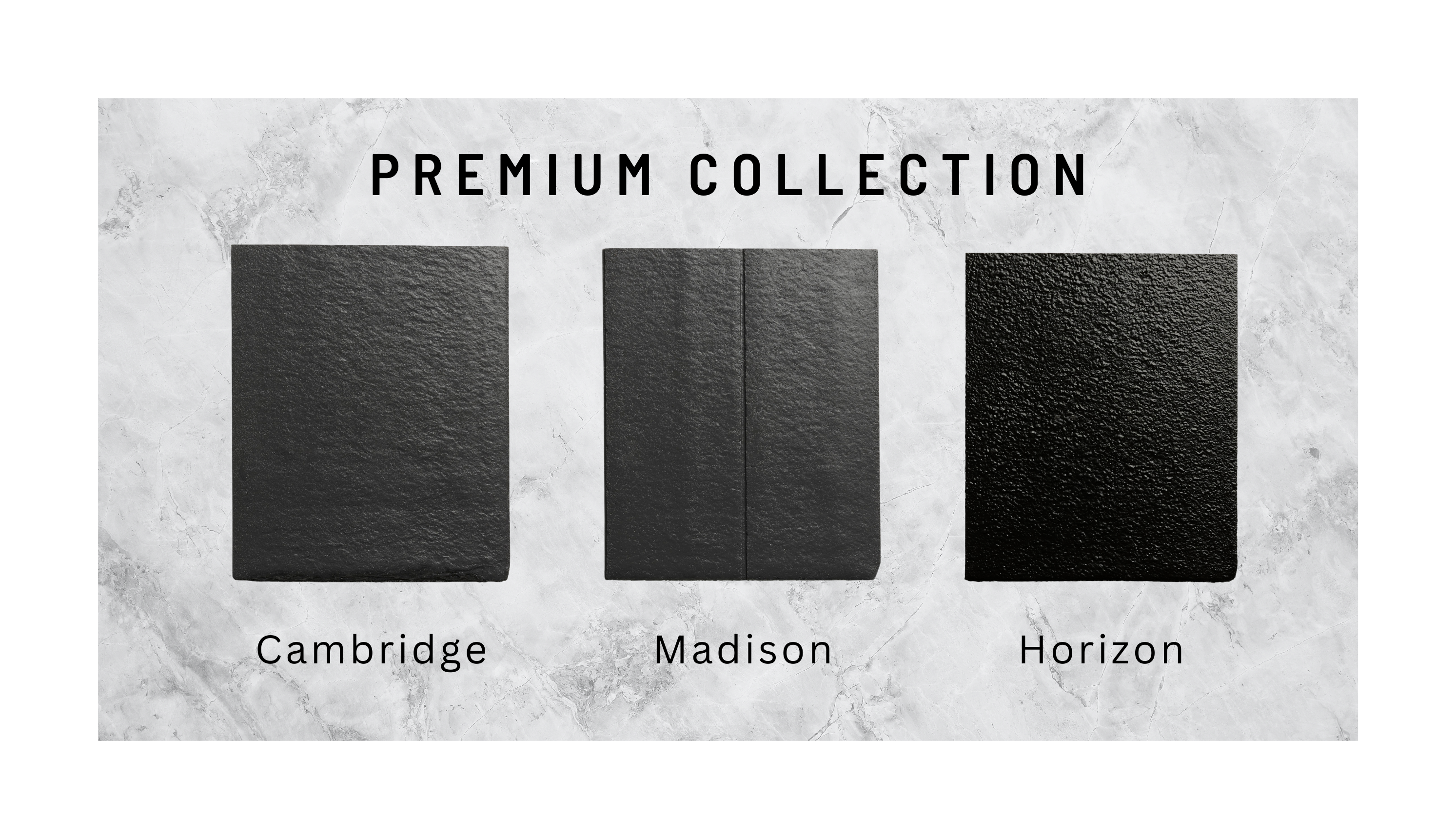 Classic Collection
Competitive on price, the Classic Collection includes Monier's quality concrete tiles. Monier's Classic Collection performs better on colour than other concrete roof tile competitors and standard metal roofing.
TILE PROFILES

Tiles are available with curved or flat profiles, and the texture can depend on the style that you are looking for. For instance, in the Luxe Collection Urban Shingle has a shingle-style appearance, making it a perfect choice for Hamptons-style homes, while the Marseille has a traditional French-style aesthetic that is best suited for heritage homes or those with classical styling. In the Premium Collection, the Madison tile has a shadow line down the centre of the tile, creating a shingle look. Monier's Cambridge tile has a hewn finish, creating a slate look.
THE RIDGE OF YOUR ROOF
The final decision when completing your roof is deciding on whether you want A-line or Lapped ridge. The modern A-line ridge provides a sleek minimalist finish and complements flatter profile tiles. A Lapped ridge is the more traditional choice, creating a classic look and is ideal for curved tiles
Interested in learning more?
Find a display or selection centre to see Monier's tile selection in person, or contact us to talk to our sales team about why you should choose Monier tiles for your new house.