Sometimes it's just easier to start again when it comes to renovating a house. That was the experience of Ebony and Anthony with their new home in Sydney's Belrose. They'd had what Ebony describes as quite a lovely home for about 10 years when they decided to renovate and expand, and structural issues got in the way.
"The house originally really didn't have any plumbing," explains Ebony. "It was a beautiful looking house, but it was built in 1969. The bathrooms were terrible, and the stormwater drainage didn't exist, so every time it rained, it filled up from the bottom."
"We did have a quote to renovate, but while the renovation looked beautiful, it was not much less than a knockdown/rebuild. So we decided to start from the beginning."
The family spent a few years living in Melbourne and renting out the house, with a view to renovating on their return to Sydney. They then started to think about the sort of house they wanted. Ebony set her heart on a Hamptons style of home and spent months looking for her dream design. It was a Porter Davis design – the Astor Grange – that ended up being a winner, first spied on a large billboard in Melbourne.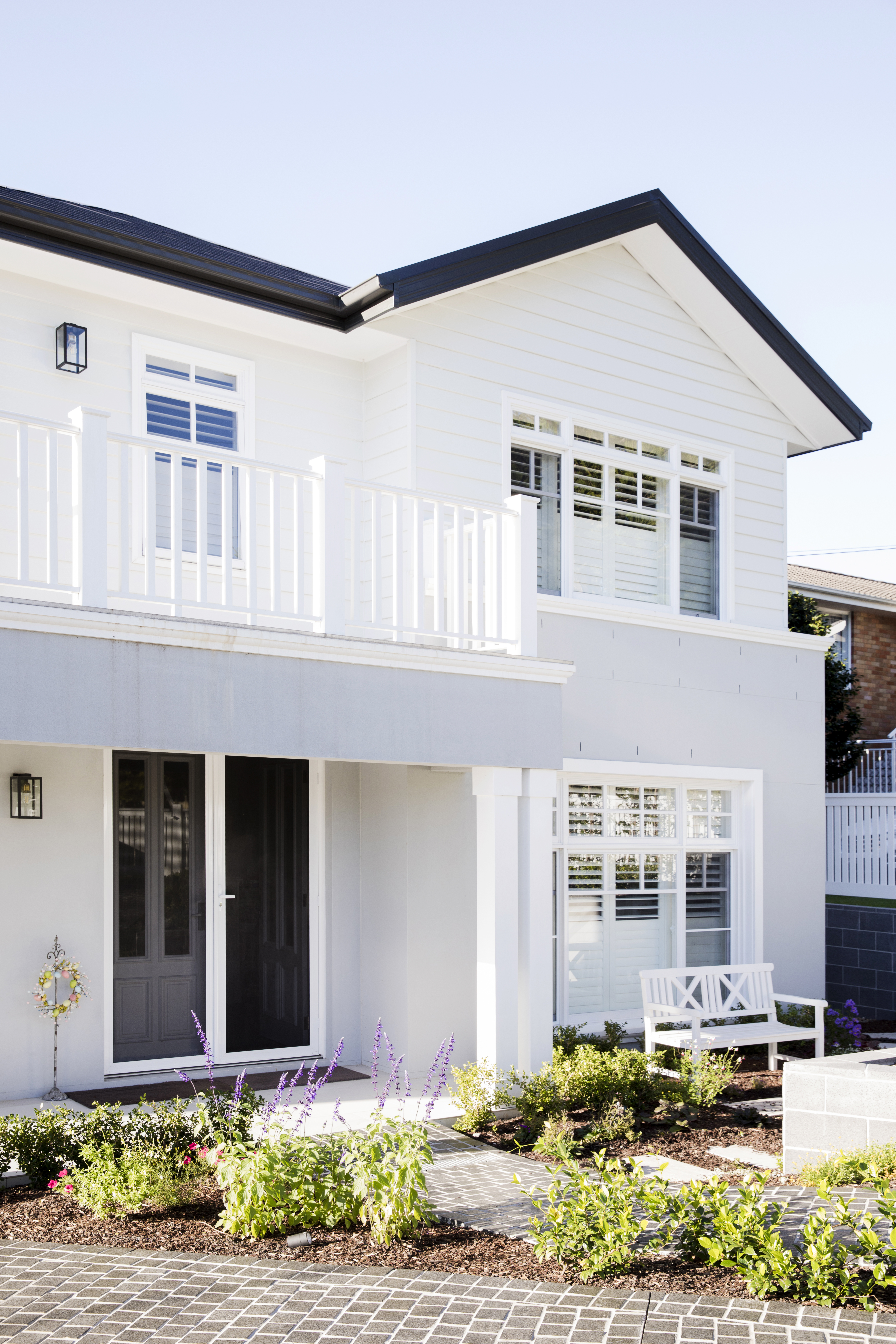 "I wasn't a big fan of the 'cookie cutter house', that was the same as everything else," she explains. "When I saw this one on a big billboard, I was like, 'That's the house'."
"So we went and had a look at it, and obviously they are designed within an inch of their life, but as a whole it was pretty spectacular, and our block faces north, so we needed the whole back of the house glass. It was perfect for this block of land."
Ebony says the Hamptons look has always appealed to her because she wanted something that looked lived in and welcoming. "I don't like new houses as such, so it needed to be warm, it needed to feel homely," she says. "I like grey and white, I like picket fences but with the straight lines. Hamptons is definitely my kind of home."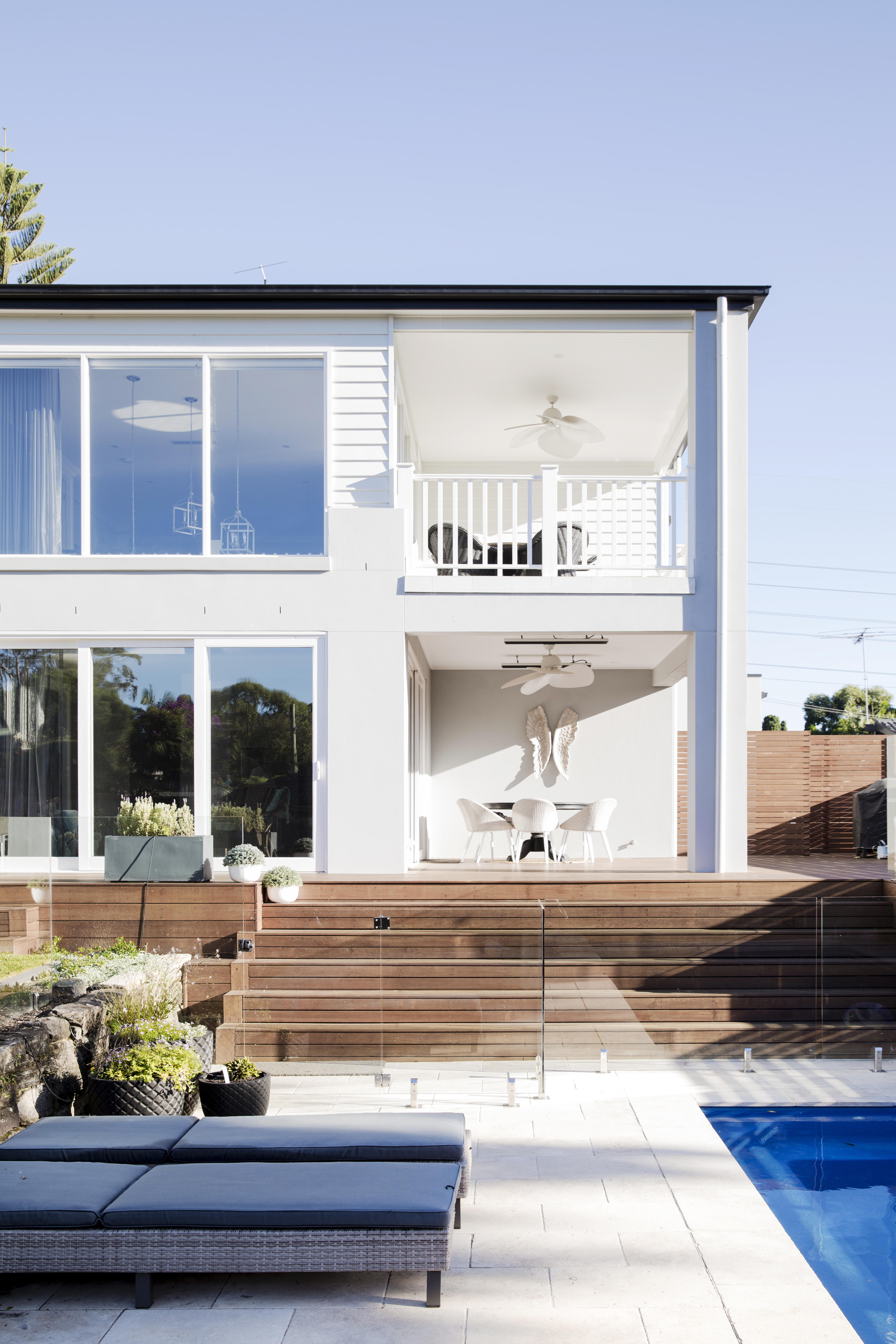 Porter Davis doesn't build homes in NSW, so the solution was for the couple to buy the plans from them. They then worked with local builders Eden Brae Homes to construct the design on their site.
Ebony says she took time choosing her roof, before opting for Monier's new Elemental™ Slate product. She had considered a slate roof, but felt the cost was prohibitive.
The house sits low on the site, so the roof plays a large role in the look of the home's façade. Anthony wanted Colorbond® originally, Ebony says, but she was adamant that they had to have a tiled roof in line with the Hamptons theme.
"The roof tiles were a big deal to me," she says. "I was like, 'No no no, there'll be no Colorbond®'. It just doesn't go in my mind. It needed to be the slate look, the flat profile, but it needed to have depth as well."
The rear of the house has a flatter profile, making the Terracotta Nullarbor tile unsuitable, which is why Eden Brae suggested Elemental™ in Midnight colour as an option, one that the family embraced.
"It was a big part of how this house looks, I think," Ebony says. "And especially, visually, it's got to all look the same, with the whites and the greys. It's all the same tones, so it was important that we got that roof, because it's a big roof as well."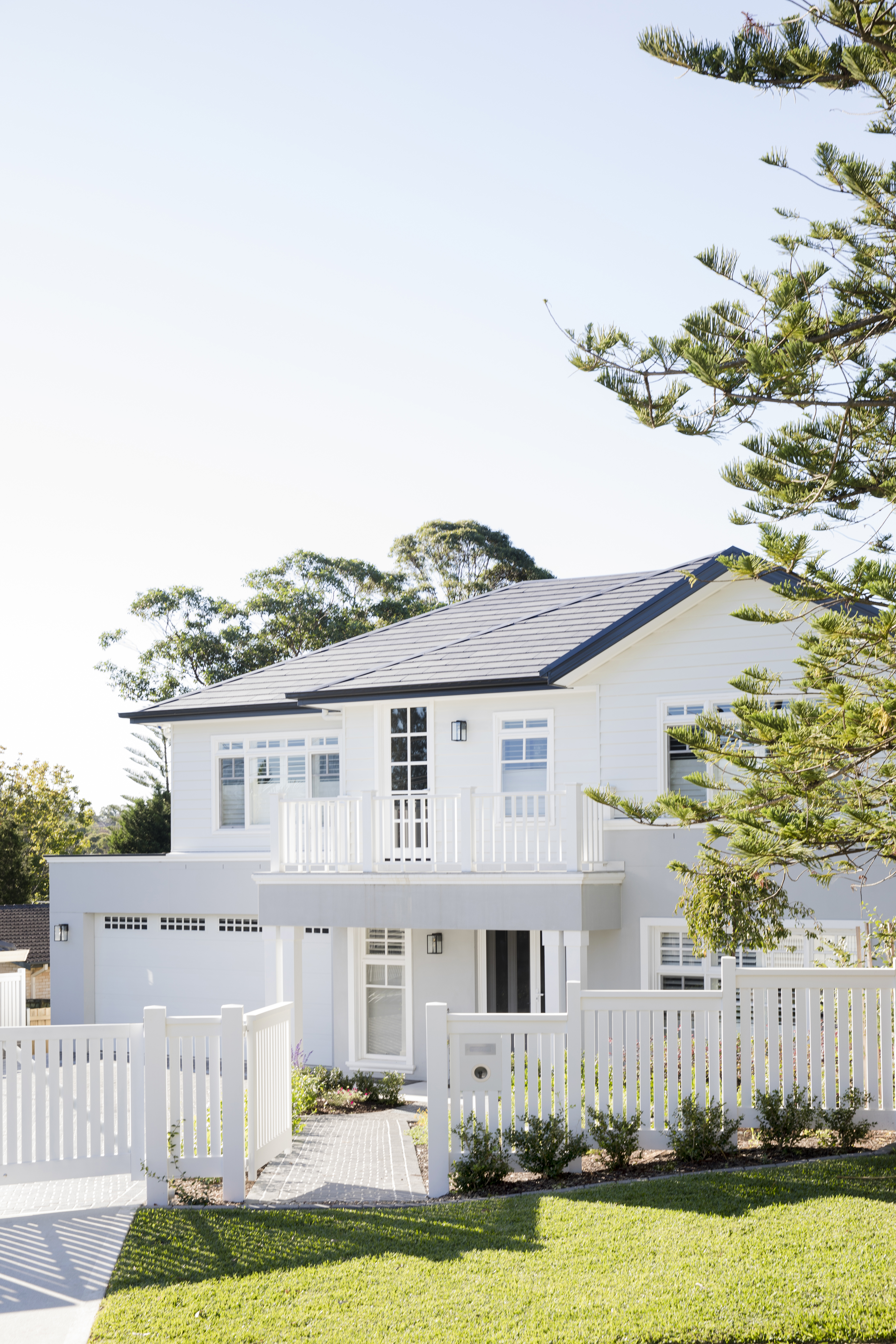 The winning design elements of the Hamptons look
1. The colour palette
Ebony wanted a muted palette of whites and greys for classical good looks, set off by a dark coloured roof, in Midnight colour.
2. Slate-look roofing
The Elemental Slate product combines the look of natural slate with the benefits of a lightweight structural roofing system. Low-maintenance and long-lasting, the product is backed by a 30-year structural guarantee.
3. Elegant accessories
Ebony chose exterior accessories in a crisp white to echo the Hamptons theme, including exterior lights from Beacon Lighting and a timber fretwork-style bench.